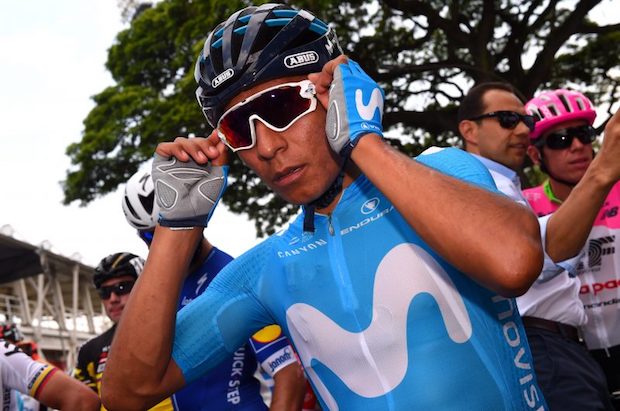 Chris Froome's Team Sky controlled the pace and prevented attacks as headwinds blew in the ascent of the Col de la Colombiere during stage 10 of the Tour de France.
Only Daniel Martin tried his luck inside the last kilometer of the climb, but he was quickly reined in on a disappointing day for fans, who were expecting fireworks.
"I think we all three felt well", said Nairo Quintana. "The body always tends to react in strange ways after such a difficult stage like the pavé one – which, combined with a rest day, makes things hard to predict. Many people struggle in those situations, and some people paid, as we all could see".
"Fortunately, it wasn't a problem for us; we did well during the day. With three demanding, consecutive efforts in the Alps, anything can happen – these are massive elevations, and we have to look for the right moment to make our move, analysing our rivals, seeing how the race goes and what we can do. Let's hope we have a chance in these two days."
"After the Roubaix stage and the rest day, and coming from a crash on Sunday, I think the wisest thing for me was not to risk everything and just get through the day", added Mikel Landa.
"My back hurt a bit at the end of the stage, but I think it's just normal after such a blow; my legs feel good. Sky set a very hard pace, probably trying to defend their position, and I think no one really was willing to burn themselves by launching a real attack in such a situation. Tomorrow's stage should suit our conditions better, since it's one where it's difficult to keep such a strong block together, and could be good for us three. It will be already a difficult stage, with some moves from the first climb, so we'll see how we can manage our efforts over the route."
"Sky set quite a fast pace, and the stage ended up being really hard. Things went pretty much under control for us, always the three of us inside the GC group. At the final kilometer of La Colombière, I experienced some problems with my gearing, the chain got stuck and I had to get it back on its place to bridge back to the group. It's a series of three difficult days in the Alps and tomorrow's stage, so short and intense, could see big fireworks or nothing at all – we'll see what we can do", added Alejandro Valverde.