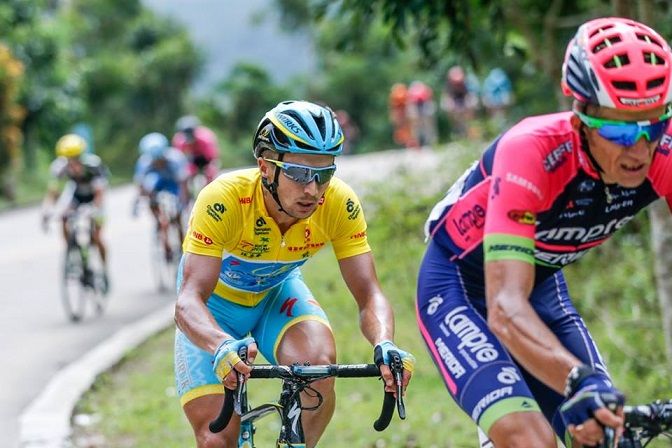 Max Walscheid has finished the Tour of Hainan in style, winning the final stage of the nine day race. After four wins already, that makes it five victories from nine stages for the young German, and sees him secure the green jersey, ending his first full WorldTour season in style. 
After a complicated stage that saw crosswinds test the peloton, Walscheid was able to finish off another strong display from the Giant-Alpecin team.
Three riders pulled clear in the opening kilometres but were only ever allowed a lead of 1'30", being kept well under control by the chasing peloton that was policed by Team Giant-Alpecin jerseys. Inside the final 40km the riders hit a crosswind section that saw the bunch split into two, but Walscheid was ready for the danger and made the front group. With 5km to race the break was finally reeled in, setting up a fast finish that saw the German rider take yet another stage win, completing an emphatic haul of victories for the 23-year-old.
Alexey Lutsenko (Astana) secured his overall victory with a safe finish in the bunch.
Tour of Hainan 2016 – stage 9 results:
| | | |
| --- | --- | --- |
| 1 | Max Walscheid (Giant-Alpecin) | 1:57:14 |
| 2 | Roberto Ferrari (Lampre-Merida) | ,, |
| 3 | Rafael Andriato (Wilier – Southeast) | ,, |
| 4 | Andrea Pasqualon (Roth) | ,, |
| 5 | Ruslan Tleubayev (Astana) | ,, |
| 6 | Serhiy Grechyn (Jilun Shakeland) | ,, |
| 7 | Zsolt Der (Vorarlberg) | ,, |
| 8 | Cristian Raileanu (Wilier – Southeast) | ,, |
| 9 | Tino Thomel (RTS – Monton) | ,, |
| 10 | Carlos Ospina (RTS – Monton) | ,, |
Final general classification:
| | | |
| --- | --- | --- |
| 1 | Alexey Lutsenko (Astana) | 35:16:41 |
| 2 | Przemyslaw Niemiec (Lampre-Merida) | +17" |
| 3 | Matej Mohoric (Lampre-Merida) | +44" |
| 4 | Patrick Schelling (Vorarlberg) | +57" |
| 5 | Mauricio Ortega (RTS – Monton) | ,, |
| 6 | Ilya Davidenok (RTS – Monton) | +1'10" |
| 7 | Alex Diniz (Funvic – Carrefour) | +1'12" |
| 8 | Mohammad Gharehbaghi (Hy Sport – Look) | +1'03" |
| 9 | Daniel Dominguez (Hy Sport – Look) | ,, |
| 10 | Cristian Raileanu (Wilier – Southeast) | ,, |