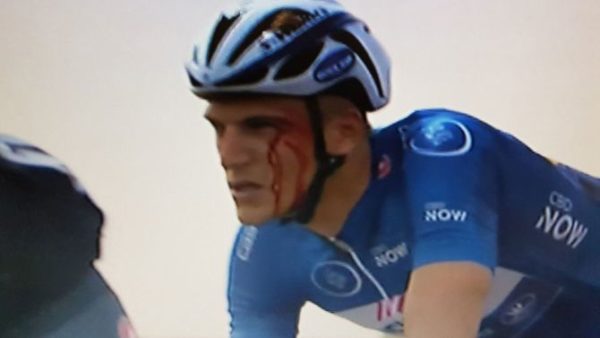 Marcel Kittel was left with a bloody face on stage 3 of the Dubai Tour today after being beaten by Andrey Grivko (Astana).

"I guess Grivko had a coffee too much this morning, I don't know what happened with him," Kittel said after the stage. "As soon as we went into the crosswinds there was fighting for positions, of course. I think it's perfectly normal that you sometimes push each other. I was trying to get back into the line with one of his young teammates. He didn't like that. So I tried to go around and came in between Grivko and his teammate, so also had to push Grivko a little bit but I didn't take my hands off anything. I was trying to talk to the young guy about why he was taking a risk and at that point I get a punch in the face."
Selon son manager, Marcel #Kittel aurait pris un coup dans l'arcade par un autre coureur.#dubaitour #lequipeVELO
pic.twitter.com/pjSWgi3zLx

— Johan Rouquet (@johan_rouquet) 2 februarie 2017
The third stage of the Dubai Tour has been affected by crosswinds and sandstorms, which caused splits in the peloton with Kittel missing out on the front group.
"I spoke to him in the race after that but I shouldn't say what I said to him in an interview here. He should be disqualified and get a ban for the next six months maybe. It's a terrible disappointment for cycling, his team, the sponsors and this race.", added Kittel.
Grivko has been expelled from the Dubai Tour after this incident.