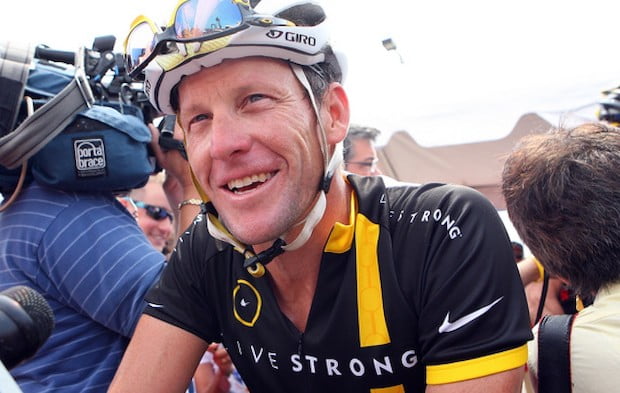 Lance Armstrong has been in the midst of a lawsuit with former team-mate Floyd Landis and the Postal Service (USPS) since 2010, but in 2018 he has agreed to pay $5 million to the U.S. government as settlement in a lawsuit that could have cost him $100 million.
Recently, Lance Armstrong said that early investment in Uber changed the fortunes of his family. Back in 2009, Armstrong invested $100,000 in Lowercase Capital, a venture capital fund started by Chris Sacca. One of that firm's investments was a brand new ride sharing startup called Uber Technologies, Inc. At the time Uber's valuation was $3.7 million. Of course, we all know what happened next.
Armstrong began competing as a professional triathlete at 16, going on to train with the US Olympic Cycling development team. Aged 25, Armstrong was diagnosed with testicular cancer in 1996. After months of aggressive chemotherapy he was declared cancer-free in February 1997.
He signed with the USPS on a salary of $200,000 (£142,259) a year. Armstrong was unstoppable, winning his first Tour de France in 1999 – and again the following 6 years. However, he was then stripped of his Tour de France wins after he was subject of doping allegations.
Armstrong has now a net worth of $50 million, accordingly to celebritynetworth.com. At the peak of his career, his net worth was $125 million and growing rapidly. The American was at one time among the highest-earning athletes in the world, regularly earning up to $20 million+ per year from endorsements and prize money. For several years of his retirement, before his scandals really exploded, he continued to earn roughly $15 million per year from speaking engagements, public appearance fees and sponsorships.
As pretty much everyone knows by now, in October of 2012, Armstrong was banned from professional racing. He was forced to give up his seven Tour de France medals and lost all of his major sponsors including Nike, Oakley, Trek and Anheuser Busch. On the flip side, throughout his career, he has been an inspiration to millions of cancer patients around the world. His cancer foundation, which he no longer is associated with, has raised nearly $500 million for research since its inception.