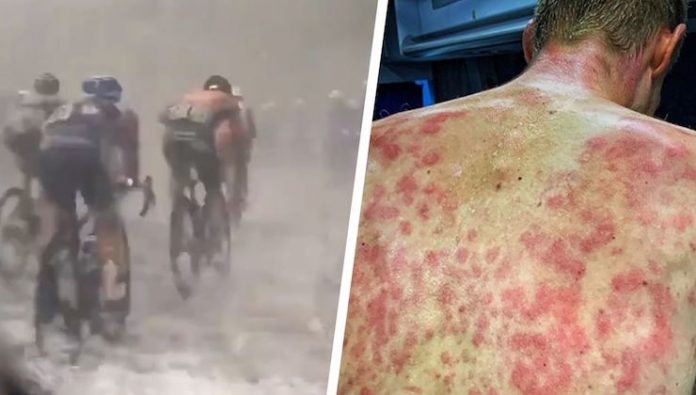 A huge hailstorm battered the riders, fans, and race officials with large hailstones right after the favorites crossed the finish line in the second stage of the Criterium du Dauphine.
Spectators were forced to crouch under trees for cover while riders were forced to a near standstill, and in some cases walked for a period, such was the volume of water and slush on the roads on the Col de Porte up the finish line.
Tony Martin took shelter under a tree alongside fans, while photos of Tim Declercq showed his back covered in red welts from the hailstones.
Hit by huge hailstones. Incredible pic.twitter.com/dcVrVk4jCH

— José Been (@TourDeJose) August 13, 2020
Maxime Chevalier of B&B Hotels-Vital Concept showed similar pelts on his back in an image posted on the team's social account.
Riders battled to stay within the time limit, including Dan Martin, who sheltered in the VIP tent for 20 minutes before being able to get to his team bus to warm-up.
@GroupamaFDJ sur la route du @DAUPHINE #CritériumduDauphinéLibéré #Dauphiné pic.twitter.com/e4bSXQ5uW8

— Philippe Mauduit (@phmauduit) August 13, 2020
Many Riders – including our boys – were hit by one hell of a hail storm – worst Than anything we expirienced. The scene was total chaos and mayhem. .. riders running for cover, hit hard by icy mini ping pong balls. #CriteriumduDauphine @dauphine pic.twitter.com/Y6XI0PCSRs

— Israel Start-Up Nation / Israel Cycling Academy (@YallaIsraelSUN) August 13, 2020