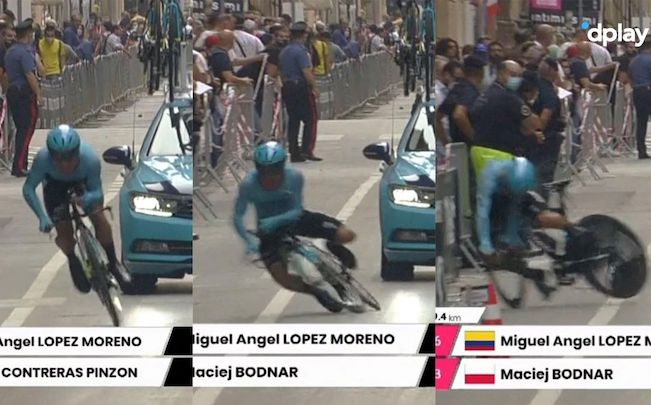 Miguel Angel Lopez suffered a nasty crash on the opening day of the Giro d'Italia after he hit a bump and he lost control, careering into the barriers at high speed.
The Colombian was down on his aero bars in the opening time trial, and lost control of his front wheel over a flat, but bumpy section of road. Lopez swung abruptly to his right, and smashed directly into barriers lining the route.
He was transported in an ambulance to a local hospital, and is out of the Giro.
"The X-ray has shown no fractures, he suffered a deep wound very close to the iliac arteria, which he had a surgery to repair and which will heal in the upcoming weeks," Astana team doctor Serge Niamke said.
"Regarding this crash Miguel Angel hasn't sustained any further serious injuries. He was able to leave the hospital on foot and returned back to the team`s hotel. We will see how he is feeling tomorrow about returning back home."