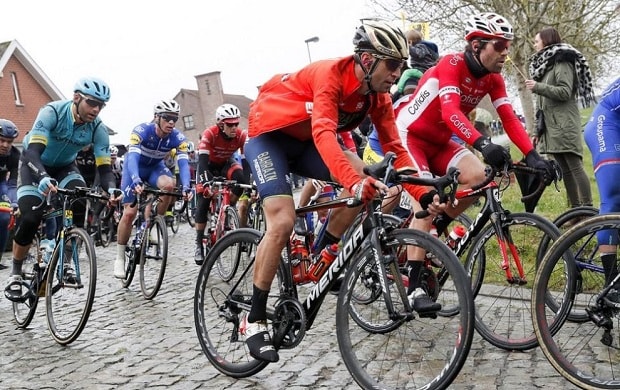 Vincenzo Nibali (Bahrain-Merida) left the Tour of Flanders impressed by the fans and the beauty of cobbled classics.
"I gave it go," Nibali said. "It was my first time here. I felt like was riding in a washing machine. I suffered on each climb like it was a sprint. I saw that you need to be in good position on each climb, or else you pay."
"Quick-Step wouldn't let any break go early on, so the average speed was high," Nibali said. "I didn't know what I was facing, because this was a race I'd only ever seen on television up to now. It was a way, a battle from the first kilometre. I was expecting a calmer pace in the first part, but instead, it was lively from start to finish."
Excitement came at 28km to go, when Nibali made an attack from the group and was joined by Niki Terpstra.
"I was a bit afraid to attack but I wanted to have a go," Nibali said. "That was a stretch where the road was climbing gradually. We'd spoken about anticipating the attacks, sometimes they can work out well, but when Terpstra he came up to me, all I could do was try to stay on his wheel because honestly, he was riding at a really very high rhythm. Then my legs said no."
"These are very fast and explosive riders. They were already doing a big sprint before the climbs just to get there in the first positions," said Nibali, who was due to board an 8.30pm flight from Brussels to Bilbao to participate in the Tour of the Basque Country, which gets underway on Monday.
"I'd need to make a more tailored build-up for a race like this, and I'd need to do all of the races leading up to it. I came here a bit out of the blue, so I knew I could do well but I also knew I could struggle. That's normal," said Nibali, who was still smiling as he pedalled off towards his team bus.
"It was a very difficult race but also a very beautiful one. Those are the two adjectives I'd use to describe it."