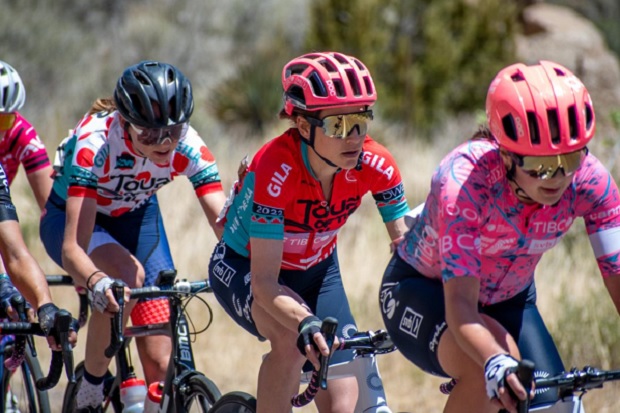 Ten gruelling miles around a near-7-mile course through a challenging set of hills and a relentless collection of bends, it was a shade of pink that crossed the finish line when the USA Cycling Women's Road Race national championship remained in the hands of EF Education-Tibco-SVB as Emma Langley triumphed ahead of the pack.
Langley, of Richmond, Virginia, collected her first national title during this past weekend's Road Race with an impressive time of 2 hours, 57 minutes, and 12 seconds. She jolted past the finish line on Gay Street with her hands over her mouth in awe.
"Honestly, it still hasn't settled in; I'm just in shock," she commented. "I did not doubt that our team could keep the jersey, but to be the one that gets to wear it now is just beyond words."
Langley wasn't the only member of her team with success on the day. The defending champion, Lauren Stephens, came in third place (2:58:42), pulling up alongside Langley to celebrate the moment.
It's just been really special to have (Stephens) mentoring me through all the races and helping me become the rider that I'm turning into"", Langley said. ""So, it's just, it's really special, and now we got to share the podium today.""
Team Cinch Rise claimed the second-place finish with Laure De Crescenzo crossing the line at 2:57:16 just seconds behind Langley, subsequently creating a dramatic finish as the two raced side by side in a sprint to the finish.
Langley wasn't letting this one slip, bursting forward with a handful of corners left, putting herself ahead to steal the win.
"My goal was to get over the climb with (De Crescenzo), see if she would continue to work, and then give it a punch at the finish," Langley said. "That third-to-last corner was really time to go. "
De Crescenzo was evidently frustrated, looking disharmonized when receiving her silver medal on the podium as Langley was handed the stars-and-stripes jersey.
"I didn't come here to get second, I came here to win, and I put myself in a position to do that, " De Crescenzo commented. "I'm just not used to some of the lame-ass moves some riders make."
However, when comparing her eighth-place finish from 2021, De Crescenzo was still happy with her placement on Sunday but also disappointed in not taking gold.
"I am thrilled to be a silver medallist; it's so much better than last year… (but) I'd rather be the hammer than the nail," she said.
Langley's animated happiness was reminiscent of Emma White's achievement in her final criterium win at the Sea Otter Classic last year. The New York native did, however, drop a bombshell, retiring from the sport aged just 24 years old.
The USA women's cycling talent lost a serious contender, but the future looks bright with the likes of Langley and Stephens. And although the New Yorkers' absence was felt, Caesars NY will let you bet on your favorite Cycling team, and if EF Education-Tibco-SVB wasn't at the top of your 'teams to bet on' list, they should be after this past weekend.
On the subject of wagering, did anyone cash in on Murphy taking the men's national road race title?
Kyle Murphy's late sprint captures US Pro Road National Championship
Kyle Murphy became the road race champion on Sunday when defending Human Powered Health's 2021 win in the nonappearance of defending champion Joey Rosskopf.
"This is just a special race for every racing," Murphy commented after the race. "Obviously, it's nationals, but for our team especially. We're over in Europe racing, but we're still an American team, and it's like a homecoming every year. You go get your butt kicked at Tour De Suisse, and you come here with the form of your life."
With a final time of 4:27:48, Murphy propelled himself to the front with a mere three kilometres remaining and managed to finish three seconds ahead of second-placed Tyler Stites.
Overall, it was a joyous day for Human Powered Health, which saw three riders finish in the top 10. Benjamin King finished in fourth place, and Keegan Swirbul placed in tenth from a 121-man field.