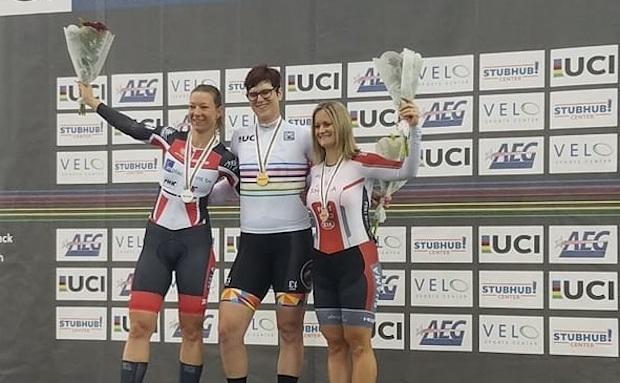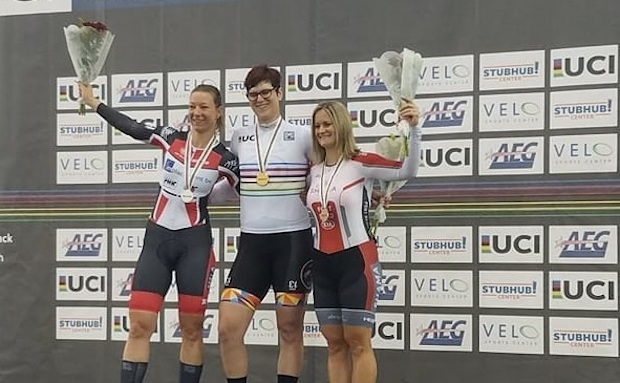 Transgender cyclist Rachel McKinnon faced death threats and abusive messages after winning gold in the 2018 UCI Masters Track Cycling World Championships.
Rachel McKinnon broke barriers when she became the first transgender woman to win a world champion title. She told CTV News she wasn't able to celebrate her win immediately because of the attention surrounding her gender identity.
"It's hard to get death threats and not read that as hurtful. It's hard to read tens of thousands, maybe hundreds of thousands, of comments of being a woman and someone calling you a man," McKinnon said.
It was a close race; McKinnon passed her competitor just 15 metres before the finish line. But it wasn't the second-place finisher who was vocally upset.
Jen Wagner-Assali, who finished third, called the results "definitely not fair" on Twitter.
When McKinnon saw the tweet, she looked at her race history and found she had competed against Wagner-Assali a number of times and had lost in a majority of them.
"It's a little weird that it is unfair when she's beaten me in 10 of 13 races. She beat me in an event earlier that week," McKinnon explained.
Transgender athletes have been allowed to compete in the Olympics since 2004 but under the requirement they had undergone gender confirmation surgery and been on hormone therapy for two years.
In 2015, these rules were relaxed to remove the need for surgery and the athletes must have a testosterone level below a certain limit for at least 12 months prior to their first competition.
"This panic that trans athletes have this advantage just isn't borne out in any evidence that we have," she explained.
"Rachel seems to have competed within those rules and she won so she should be recognized for her sporting accomplishment," explained Paul Melia with the Canadian Centre for Ethics in Sports.