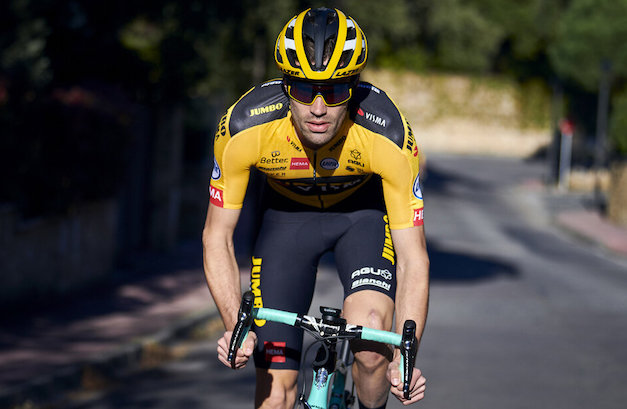 Tom Dumoulin has decided to take a break from his cycling career. The Dutchman, who turned 30 last fall, decided in consultation with his team Jumbo-Visma to take unpaid leave for an indefinite period.
Last night Dumoulin announced this in a conversation with the leadership of the Dutch cycling team during the training camp in Alicante. He says he has been unhappy as a cyclist for a year. He wants to take some time to find out what he wants from his future and to find an answer to the question whether he still wants to be a professional cyclist.
"I took the decision yesterday. And the team supports me in it, and it feels really good. It is really as if a backpack of a hundred kilos has slipped off my shoulders. I immediately woke up happy. It feels so good that I finally took the decision to take some time for myself. That says enough. I have been feeling for quite a while that it is very difficult for me to know how to find my way as Tom Dumoulin the cyclist," Dumoulin said.
"With the pressure that comes with it, with the expectations of different parties. I just want to do very well for very many people. I want the team to be happy with me. I want the sponsors to be happy. I want my wife and my family to be happy. And so I want to do well for everyone, but because of that I have forgotten myself a bit in the past year. What do I want? Do I still want to be a rider. And how?", he added.
After the 2020 Tour de France, Dumoulin revealed that he had already thought about quitting.
"I had a terrible time after my knee injury. Then my intestinal complaints got over it in the spring and then corona. I can say that stopping was closer to me than continuing ", he said at the time.
It has now become clear that he is still pausing his cycling career indefinitely. A return as a professional cyclist is therefore not excluded.