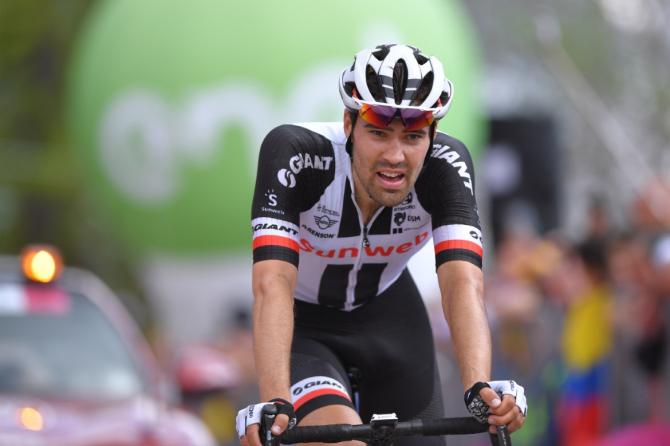 Tom Dumoulin swapped out Simon Yates for Chris Froome in Friday's epic ride across the Italian Alps that saw the Sky captain usurp leadership on stage 19 when Dumoulin was poised to take pink.
"It was a crazy stage. I expected Sky to go on the Finestre and they did. I had good legs, but I didn't have the legs to follow. I think I did everything right, but Froome was way too strong. I thought I rode well but Froome rode super well," Dumoulin said.
"I knew that they had something special planned for today. The big thing is that he could sustain it,".
"He dropped me on the climb but not by much. Then on the descent, I twice decided to wait for Reichenbach because he wanted to ride with me. Maybe that wasn't a good decision. On my own, I can descend just as fast as Froome, but Reichenbach descends kind of like an old lady. With hindsight that wasn't the best idea. But it's easy to speak afterwards."
"They're all riding their own race. It was mostly up to me to chase. I'd have liked some help but I can understand them," dumoulin said about Miguel Angel Lopez and Richard Carapaz.
Dumoulin is still only 40 seconds down on Froome with the final mountain stage 20 to Cervinia left to race.
"It's going to be super difficult, but I'll keep on fighting. At the moment I'm a little pessimistic, but we'll see when I wake up tomorrow," Dumoulin concluded.