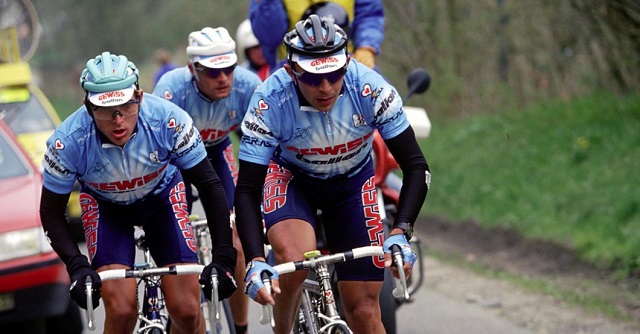 The 1994 Fleche Wallonne raised eyebrows, not for the winner, Italian Moreno Argentin, 'king of the Ardennes' Classics but for the actual manner in which the race unfolded.
Three guys, all from the same team, break-away on the second ascent of the Mur de Huy, ride a team time trial over 70 kilometres to the finish and fill the first three places at the top of the 'wall'.
Despite a concerted effort by the likes of Lance Armstrong, Davide Rebellin, Claudio Chiappucci, Franco Ballerini, Davide Cassani and Gianni Bugno, they finished well clear of the rest. Bugno claimed fourth place, 1'14" behind.
Afterwards, Armstrong said that "they crushed us." It was obvious to many observers that what they had witnessed wasn't natural and questions were asked.
After the race, French sports newspaper L'Équipe interviewed the team's doctor Michele Ferrari. Journalist Jean-Michel Rouet asked Ferrari if his riders used EPO. Ferrari denied prescribing the drug but said he would not find it wrong, saying that it was not dangerous and compared taking EPO to drinking orange juice.