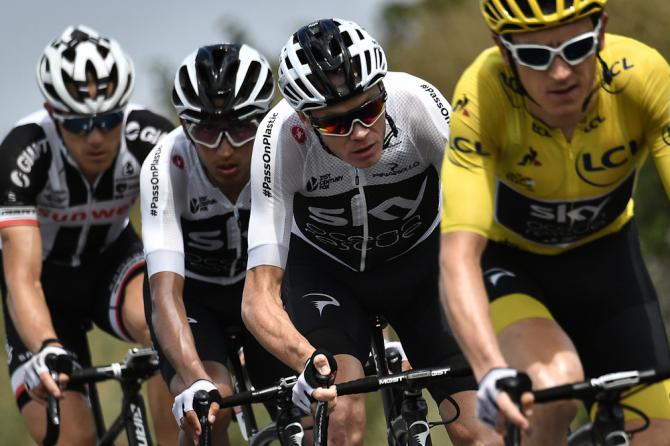 (AFP) – Yellow jersey holder Geraint Thomas brushed off suggestions he and Chris Froome were targeted by fans on the Tour de France 14th stage days after being booed and spat at by irate fans on Alpe d'Huez.
Thomas suffered the indignity of being booed off the podium when he won the second of back-to-back stages in the high Alps to take his lead over four-time champion and teammate Froome to 1min 39secs.
On the second of those days, Froome was spat at and was lucky not to crash after one fan slapped him heavily on the back as he raced the 13.8km ascent to the summit.
Race officials have since called on fans to "respect the riders" in the peloton. But Team Sky's domination, and controversy involving the British team in the lead-up to the Tour, has led to a backlash.
As Thomas and Froome raced to the finish line in Mende, 18 minutes behind Omar Fraile, insults — and liquid from a bottle or cup — were thrown in Froome's direction.
The scene could have been reminiscent of 2015, when a fan called Froome a "doper" as he threw a cup of urine in his face. But Thomas played the incident down.
"I don't actually recall it, but I'm not surprised," he said. "We've had a bit of that (abuse) … but it's always been water. I wouldn't know what it was."
Froome, who won the Tour in 2013 and 2015-2017, was only cleared to participate in this edition days before the start by the International Cycling Union (UCI).
The Briton was in the anti-doping crosshairs after his "adverse, analytical finding" for the asthma drug salbutamol on his way to victory in the Vuelta last year.
Froome was found to have double the permitted amount of the drug in his body, but, prior to the UCI ruling, Sky have always maintained Froome is "innocent".