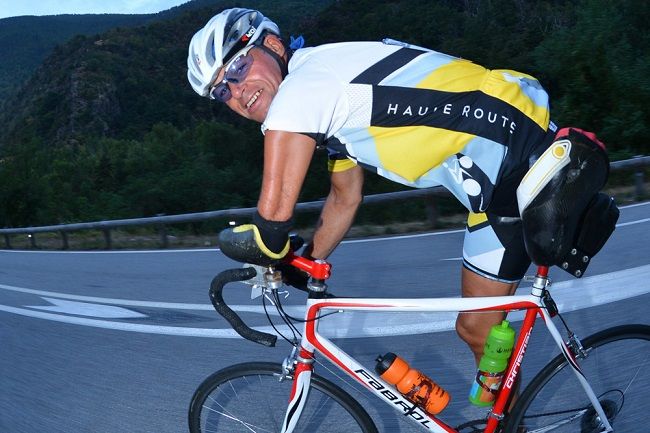 As if riding over the Dolomites, Alps and Pyrenees in three weeks isn't hard enough, Frenchman Christian Haettich did exactly that, despite having lost his left leg and left arm below the elbow in an accident years ago.
The so-called Triple Crown combines the three Haute Route rides — each a week long and very challenging in their own right — with just a single rest day in between. It's a total of 2,575km with 60 climbs and a total of 60,000m of climbing.
Haettich was born and brought up in rural Alsace, in north-east France. He describes his childhood as being completely normal until a devastating accident in December 1976 when he was 15 years old. He was out riding a moped when he was hit head-on by a car that was overtaking oncoming traffic. As a result of the accident he lost his left leg from the hip and his left arm from just below the elbow.
"Many things changed for me. It's not easy ending up disabled for life at 15, especially in 1976. I had to learn how to live again and deal with being stared at. It's tough being disabled at this age, I was often rejected," he stold BBC. "I must admit that at one time I thought about ending my life."
Although Christian Haettich has a prosthetic leg for walking, it is not suitable for cycling. Having his weight on the right side of his body made the process of learning to ride extremely demanding.
"I had no balance and fell off many times. I often felt like giving up and moving on to something else. My wife helped me a lot until the day I managed to ride without falling off and from that moment, everything began. It took me almost a year to feel confident but in the end the struggle paid off," he says.
"My first mountain was just to the side of my house, it wasn't even a mountain, just 1.8km (1.1 mile) long with an average gradient of 8%," he says. "I was extremely ill, I thought I would die it was so difficult. I did it every day for 15 days. Pedalling uphill with one leg is hard, it's just push and pull, if I forget one, I fall. I can laugh about it now but it was very tough."
"My disability has never prevented me from climbing a pass. It gives me determination and mental strength. I can't ride any other way, so I don't have a choice,".
"Cycling is above all a passion, it's freedom. When I see everything I've done on a bike, I can only be proud. Cycling brings me happiness and a true balance to my life, that is indisputable. Cycling takes away my disability, it helps me move forward, it helps me to always go further, to make the extra effort. The bike is a source of inspiration."