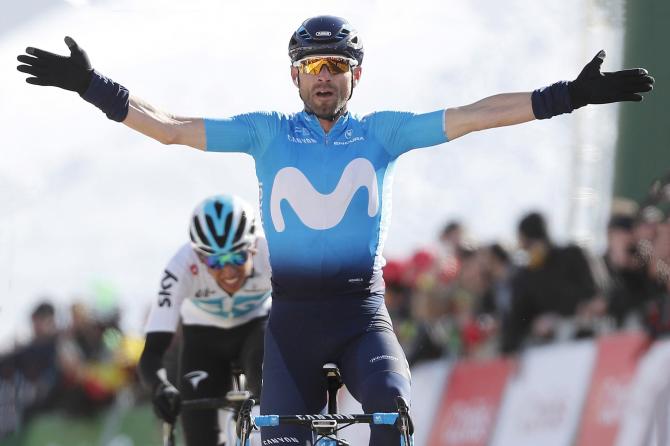 July 1, 2017 day one of the Tour de France, an opening prologue time trial in the rain in which Alejandro Valverde's career almost came to an abrupt end. In a corner the bike skidded out from under him sending him crashing into a metal fence breaking both his kneecap and his ankle. Most other 37 year old athletes would call it a career and walk away. Alejandro Valverde is not most other athletes. He could not accept that his career might be over. He kept repeating — "I'm not ready. I'm not ready. I don't want to go."
Watching the stage in that corner was a Spanish nurse who currently works in Germany. She was able help calm him and then act as his translator. Valverde under went surgery that night. The following day he was told he had a chance to make a full recovery and race again. He spent one week in the German hospital where he began his rehab. Upon returning home he continued his rehab at a local hospital. He pushed hard with his rehab. His wife, Natalia, has explained that he would do double what was being asked of him. She also said he would have celebrations once he achieved different goals. One of those goals was achieved within the first three weeks of his rehab when he was able to get on a water bike so he could start riding again. Not long after he was back on his bike on a trainer. At the six week mark he was back on the road training, highlighted two weeks later by joining his teammates on their Vuelta rest day ride near his home. The biggest takeaway from the ride and the interviews was his smile was truly back.
During the next several months Valverde spent finishing his rehab and preparing for his return. Throughout his rehab and preparation for his return he kept his fans updated on his progress. Those fans who were there with him through what he has called his darkest hours. Those fans whom he has expressed his gratitude for many times.
During his training to return both he and his friends said he looked as good as he did he previous off season. He said he felt similar sensations to the year before. However, he did caution everyone that although he felt great in training he had no idea how his knee would react once he actually resumed racing.
Almost seven months after his injury Valverde was ready to make his return to racing at Mallorca Challenge. Valverde admitted that before his first race at Mallorca Challenge he was nervous. He explained it was a different type of nervousness, one that happens after returning from a serious injury. Although he did not win in Mallorca he did get one podium and finished just off the podium in the two hilly races. Up next on Valverde's schedule was the Volta a La Comunitat Valenciana. On February first, exactly 7 months to the day after his injury Valverde won stage 2. His first win upon his return came in a sprint from a group of three riders. His celebration after crossing the finish line was one of elation and relief. He would win a second stage in an uphill sprint as well as the overall title completing his comeback in spectacular fashion.
Alejandro Valverde completed his winter/spring campaign with 9 total wins and several more podiums. At 37 years old he has made an impressive return to racing. His fans are ecstatic he's back and many in the peloton are glad he has returned. Valverde's smile is always present. Alejandro Valverde is racing again and enjoying every moment of it.
Gretta Long