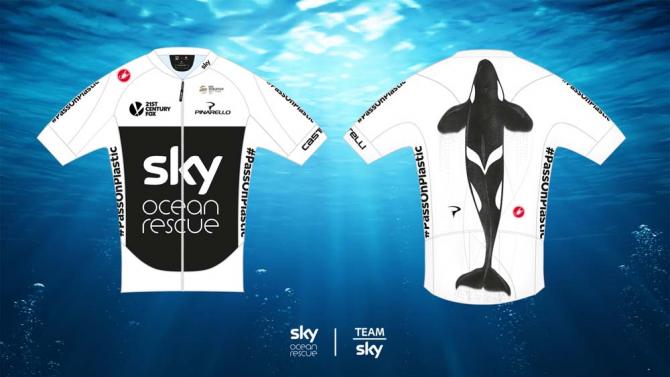 Team Sky has joined the Sky Ocean Rescue journey by unveiling a new kit design for the upcoming Tour de France – and pledging to remove all single-use plastic (SUP) packaging from its business operations by 2020.
The new kit design will be worn by Team Sky at the Tour de France (July 7th-29th). It has been designed to help the team stand out in the peloton, with orcas featuring on the back of the jersey.
The riders will also wear a bespoke version jersey, exclusively developed from ocean plastic material, at the Team Presentation.
Team Sky is aiming to raise awareness of this important issue and inspire people in the cycling community and beyond to make simple, everyday changes to stop our oceans drowning in plastic.
Chris Froome has backed Team Sky's 'Race to 2020' pledge, commenting: "It's great that the team are getting behind such an important issue – one that is having a huge impact in the world we live in today.
"The special-edition kit is fantastic and will really help to raise awareness at the Tour de France, but it's important that the legacy continues after that, as we look to build on the amazing work Sky have done so far with their Sky Ocean Rescue campaign with our own 'Race to 2020' commitment."
Team Principal Dave Brailsford, said: "Sky Ocean Rescue has been at the forefront of a global campaign on single-use plastics over the last year – and it is making a real difference. We are proud to join this important fight to change behaviour and help save our oceans.
"Like all parts of society, cycling must do more to reduce its reliance on single-use plastic at every level. The nature of our sport means we have a special responsibility to the environment and at Team Sky we want to take a lead.
"At the upcoming Tour de France, the Team will be wearing a striking new kit design to highlight the issue to a global audience of millions.
"We want to encourage people across the world to think about their own use of plastic and make changes in their everyday life. We are all in a position where we can make a difference."