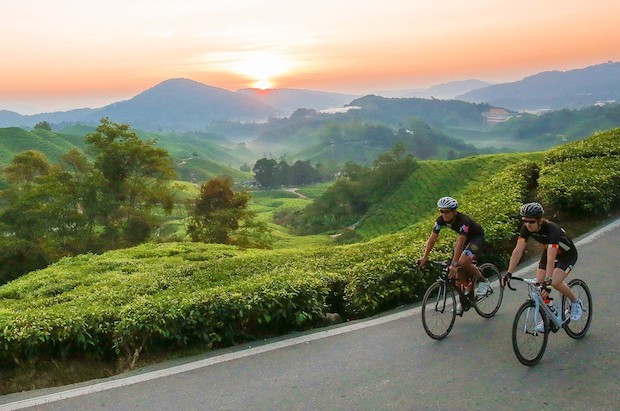 Malaysia's topography offers many sights for tourists to enjoy — from coastal plains and stunning islands, to lush forests and scenic trails. It's even more of a treat for cyclists, who can enjoy the many sights while on a bike. Plus, more locals in the capital have started to embrace the idea of cycling — leading to efforts to make the city safer and better for cyclists. As such, now is a great time for bikers to visit this country. Whether you want to explore the countryside or the city, here are some cycling routes you definitely shouldn't miss in Malaysia.
Melaka
Melaka is a historical city with several alleyways and shops — blending old and new with ancient buildings seen alongside modern shopping places. It's easy to cycle your way to see the sites, such as A'Famosa Fort and St. Pauls' Church. However, take note that there might not be much parking spaces for your bike when you want to visit museums. Jonker Street, which is known for its vibrant night market, gets crowded on the weekends, so you'll also have to be careful when cycling.
Balik Pulau
Balik Pulau is a great place for cyclists who also want to go food tripping. For one, you've got Thai cuisine at Anjung Indah Thai Seafood Restaurant, and Asam Laksa at Kim's Laksa Balik Pulau. If you want an experience that's off the beaten track, Penang Foodie's guide to Balik Pulau suggests joining Matahari Cycle Tours. Here, you get to see paddy fields, fishing villages, and fruit orchards. If you take the trip during durian season, Bao Sheng's Durian Farm offers visitors a durian tasting experience.
Taiping Lake Gardens
Taiping Lake Gardens used to be the site of a tin mine during British colonial days, but it's now the oldest public garden in Malaysia. There are winding trails that go past Victorian-style gazebos, rain trees a hundred years old, and lakes and ponds scattered throughout the garden. The place is considered one of the top three most sustainable destinations in the world.
Forest Research Institute of Malaysia
Also known as FRIM, this is a great place for nature lovers and those who want a bit more adventure. Here, there are many approved mountain bike trails with different terrains and levels of difficulty for every kind of biker. You get to enjoy sights like waterfalls and other flora and fauna too. It's definitely refreshing with the right amount of challenge.
Genting Highlands
Genting Highlands is a hill resort on the border of Pahang and Selangor. While you can get to it using a cable car, cycling is also a great option. It makes for a scenic ride, especially because you get a view of the surrounding areas as you go higher. The gradient of the slope reaches 25% at the tightest bends, but it's generally a 10% that will still be quite the workout.
Some Tips for Cyclists
When lost, talk to the locals
There may be moments when GPS will disappoint you. When that happens, don't fret. Malaysia's locals are known to be friendly and accommodating. Plus, ExpatBets' guide to Malaysia explains that English is also commonly spoken around the country — so you should definitely have no problems asking for directions or help. Indeed, it's an incredibly diverse land with such warm culture — making it one of the best locations for travelers in Asia.
Consider renting bicycles
If you don't own a bike or cannot bring your own while you travel, you can actually turn to rentals. Many tourist spots and destinations offer bike rentals, such as Penang, where they have several designated bike lanes. Malaysia Life's feature on bike rentals in Penang gives some tips regarding the kind of bike to rent depending on your itinerary. For example, one-gear bikes are enough for leisure, but mountain bikes are better for cycling long distances or on different terrains (such as what you'd expect at the FRIM). At the end of the day, go for a bike that is reliable, fits you properly, and is safe. The last thing you want to worry about while you're traveling is getting into a cycling accident.