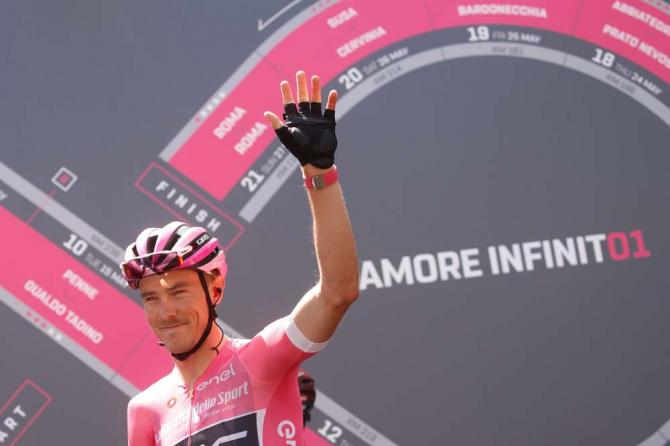 Rohan Dennis arrived in Sicily with the Maglia Rosa on his back and a determined effort saw the Australian retain the race lead after a chaotic stage 4 of the Giro d'Italia.
The 202km stage from Catania to Caltagirone featured barely a single section of flat road, instead the peloton tackled the bumpy terrain including two categorized climbs and a technical uphill finish.
Despite attacks going into the last 10km of the day, the reduced bunch came back together, and battled through the narrow streets towards Caltagirone which saw multiple riders crash.
"It is great to keep the Maglia Rosa for another day", said Dennis. "The team did everything possible to put me in the best position and then I had a couple of guys around me until the final bit. It was a bit stressful but I managed to stay up there. We were hoping that if I was feeling good, I could try and take the sprint but with 250m to go, I knew it wasn't possible, so I just made sure there were no big gaps."
"It was a hectic day. There were a lot of corners, and a lot of people on the roads, so it was just about trying to stay out of trouble in the last 10km until the bottom of the climb. It's a big achievement to keep the Maglia Rosa for another day. Everyone knows that it is pretty common for me to lose a jersey after one day at a Grand Tour and now I have kept it for two days. It's all thanks to my teammates, I can't thank them enough."