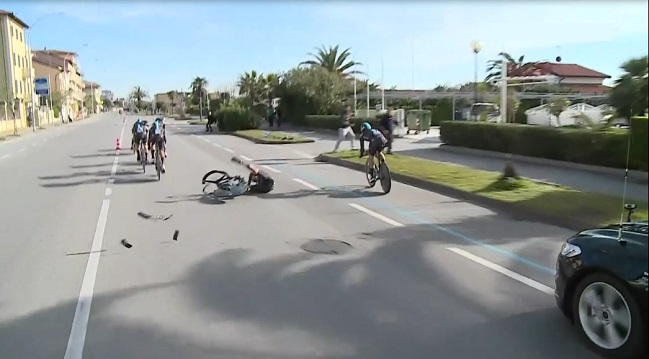 Some of the wheels the Team Sky riders were using during Tirreno-Adriatico's team time trial collapsed catastrophically mid-stage.
The wheel supplier PRO says now that the reason the wheels fell apart was the incorrect tyres being used on the day. The Shimano subsidiary  has released a statement saying it has reached its conclusion after lots of research.
"During the Team Time Trial of Tirreno-Adriatico, Team Sky rider Gianni Moscon crashed following an incident with his PRO 3-spoke front wheel. PRO conducted a thorough investigation to replicate the circumstances, to examine its strict safety standards and to ensure that the safety of riders remains the highest priority.
The investigation concluded that the 3-spoke wheel is completely safe to continue racing. The incident occurred because the rider hit a pot hole at high speed on a tyre that did not meet the minimum tyre width specification as advised by PRO.
Athletes can have the confidence that the 3-spoke wheel is the perfect choice for victory as long as the correct usage conditions are followed. PRO advises all customers and riders using its 3-spoke time trial wheel to choose a minimum recommended tyre width of 24mm (622-24), to inspect the wheel for damage following impact and to stop riding in the event of a puncture."