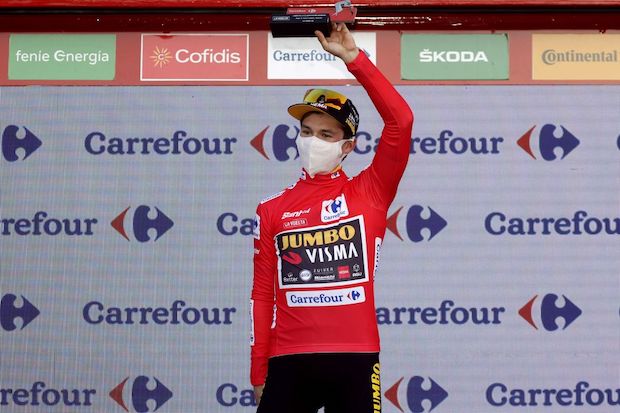 Primoz Roglic retook the leader's jersey of the Vuelta from Richard Carapaz after winning his third stage with an uphill sprint finish in Stage 10 on Friday.
"It was a good surprise. I just went for the win, the team had put me in a great position, and I could do it," Roglic said.
"For the team it doesn't change much, we still need to keep our momentum and focus. But we have some big mountain stages coming up this weekend, they say the leader's jersey gives you strength and hopefully it'll do that for me when I need it."
"I've never been here before, but I saw that finale. Then luckily I had the legs and I won. It's quite a challenge to have the lead the whole time, but our main goal always the same, so now take responsibility back and do best we can," he said.
"The fight is not just between me and Richard, but also with a lot of other guys."
"Right from the beginning, I've just been enjoying being here, doing this race in these hard times – for everybody and for all of us in team, we're just happy to do that," he explained.
"I think the whole team is enjoying this, we're doing our best. Also, compared to the Tour, it was just a lot of things, [but] I have already had enough stress for this year. I need really to enjoy this, be happy I can still do the races and have fun."