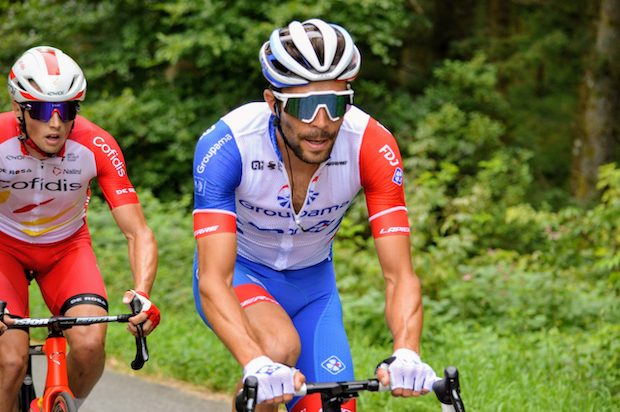 After Rafael Nadal admitted use of anaesthetic injections during the Roland Garros where he wrapped up a 14th title, some of France's cyclists have questioned the tennis star's ethics.
"How many injections did you have during the tournament?" Nadal was asked after the final.
"It's better that you don't know," Nadal replied, laughing.
"Today's heroes…" Thibaut Pinot commented on this exchange.
Les héros d'aujourd'hui… 🤔🫠 https://t.co/KCYQ1mZjUr

— PINOT Thibaut (@ThibautPinot) June 5, 2022
Anaesthetic injections are completely legal in tennis but, as Pinot's compatriot Guillaume Martin pointed out to L'Équipe, would be illegal in cycling.
"If a cyclist does the same thing, it's already forbidden, but even if it weren't, everyone would fall on him calling him doped because there is such a cultural background, such connotations attached to the bike," Martin, who recently finished 14th overall at the Giro d'Italia, told the French newspaper, pointing to not only the difference in regulation but also in perception between sports.
"While people praise Nadal for being able to go this far in pain. I believe that [footballer] Zlatan Ibrahimovic also spoke about his knee injections. They pass for heroes because they go far in pain, but in fact, they use substances to go far in pain and again, it's very borderline. The winner on the bike, in particular that of the Tour de France, even if there is no element behind it, he is systematically accused of doping."
"Tennis, for example, has quite similar parameters with cycling, it's an endurance sport with accelerations, so I think the same products can have a doping effect. In that case, I don't see why there would be different regulations. There is a part of endurance in tennis, in football, and anyway, there have been proven cases of doping in these sports, so there was an interest. The MPCC publishes statistics quite regularly and in terms of the number of positive athletes compared to the number of tests, cycling comes far behind many other sports."