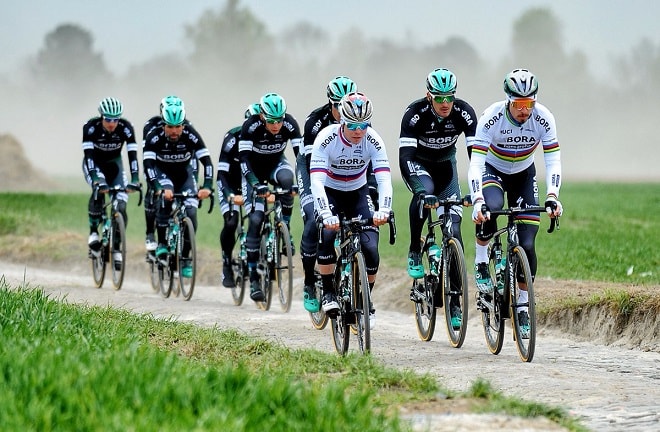 Paris-Roubaix has always been Peter Sagan's goal so a win can transform the story of this year's near misses  into a satisfying ending.
The world champion says that his idol when he was growing up was Tom Boonen, who will retire on Sunday after Paris-Roubaix.
"My oldest memory of Paris-Roubaix goes back to 2005, the year that Tom Boonen won for the first time and also became world champion in Madrid," Sagan told Het Nieuwsblad. "I sat in front of TV at home shouting for Tom's victory. He was my idol.
"When I arrived, I did not know how to ride cobbled classics. Tom Boonen was my example, my reference point. I watched him and regularly asked general questions about cycling. He is cool."
"The first time I met him? That is one of the most beautiful and important moments with Tom, but that night itself was different. I was at Liquigas neo-pro," Sagan said.
"Young and eager as I was, I made him a dumb move in full preparation for the sprint of the opening stage of the Tour of California. He was angry. Man, I was aware of it. That night we slept in Sacramento in the same hotel. After dinner, I got the courage to walk over to my idol. I said, 'I'm really sorry.' He replied, 'Don't worry, s**t happens in a race.' Typical Tom."
"If I cannot win, I will be very happy if he did do so. He deserves this. It would be a great culmination of his career."
This year, Paris-Roubaix will be, for the first time, broadcast from start to finish and you can watch it online this Sunday, here.