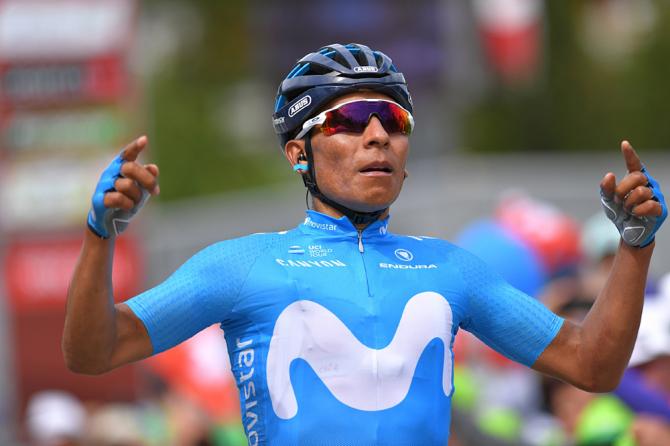 Nairo Quintana feels fresher heading into the Tour de France than he has done on any of his four previous appearances at the iconic Grand Tour.
Quintana – who is one of three lead riders selected by Movistar this year – has tailored his schedule to give him the best chance of completing the triple crown, and he is feeling confident.
"We really focused our efforts this year on tackling the longer climbs and also improving our consistency on time trials," he said.
"The main goal was to reach Tour time with fresher legs; in previous seasons, we had come to the start after bigger efforts, going full-gas on many week-long stage races.
"We've also done some good racing before the Tour this year, but we did reduce our racing load, travels back and forth to those competitions. That should all help me get to this race fresher and in better morale."
"It's probably the best squad I've had by my side for a Grand Tour," he added. "We've got to remain together, work hard – that's the way we can become the perfect team.
"Our goal is winning the Tour. It's the Grand Tour I'm still missing in palmares, one that I've always dreamt of.  We've got a great team. Let's hope we can get safely through the first few days, working together as we've always done, and hopefully best our rivals for the victory."
Froome will also be battling for the title next month, but the Team Sky rider is not the only man Quintana is worried about.
"Froome and Team Sky are the number one contenders for this race, that's obvious," said the 28-year-old. "After them, there are some riders who stand a big chance, especially if they get through the pave stage unscathed.
"We've already seen Nibali taking advantage of such cobbled stage races when he won the Tour four years ago. Then there's another kind of riders more or less similar to each other, with some stronger or weaker points but quite alike, names likes [Richie] Porte [and Romain] Bardet."