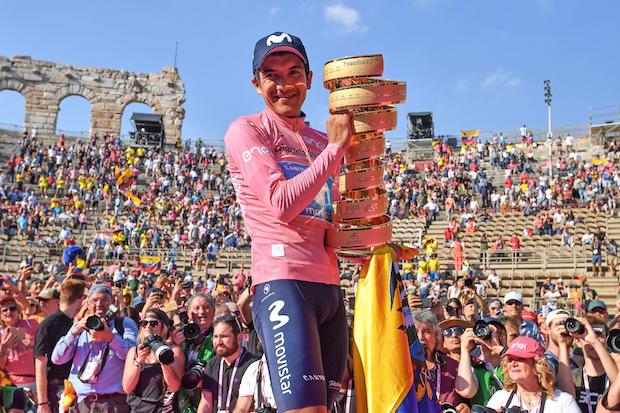 The rescheduled Giro d'Italia will start with four stages in Sicily. The race will begin with a 16-kilometre individual time trial from Monreale to Palermo on Oct. 3.
This year's Giro was originally scheduled to start with three stages in Hungary and run from May 9-31 but it was postponed because of the coronavirus pandemic.
The first stage will be on Saturday, October 3, and will be a 16-kilometre time trial between Monreale and Palermo. The second day of competition, will take the riders through a 150 kilometres long route between Alcamo and Agrigento that will feature a finish for the puncheurs.
And the penultimate day on the island will be the stage Enna-Etna, of 150 kilometres and will be the first mountain finish of the 103rd edition of the race, taking the riders through a new ascent that has only been partially climbed in 2011. On the fourth stage, the race will leave the island in a 138-kilometre route between Catania and Villafranca Tirrena, on a day for the sprinters.
"We immediately accepted the invitation of RCS Sport to bring the Grande Partenza forward from 2021 to 2020 because we also believe that the seasonal adjustment is fundamental for us," said Manlio Messina, Councillor for Sport, Tourism and Entertainment of the Sicilian Region. "We are proud to be part of this project which I am sure will drive the development of sport and tourism. I am convinced that resources must be invested in major events and for this reason we have chosen the Giro d'Italia. Sicily will welcome the Corsa Rosa with the warmth that has always distinguished it."
"This year the Giro d'Italia will start from Sicily," said added Nello Musumeci, President of the Sicilian Region. "We have reached this agreement with RCS Sport and from 3 to 6 October the Corsa Rosa will have four stages on the island before reaching the continent. A great event, not only from a sporting point of view – this traditional sport has many enthusiasts in Sicily – but also for promoting tourism, with the Giro d'Italia which will highlight the most beautiful parts and the most interesting landscape and aspects of our territory. It's a great opportunity for sport and tourism, and to show the best part of our land to Italy and to the world."
The Giro d'Italia 2020 will be held from the 3rd to the 25th of October.