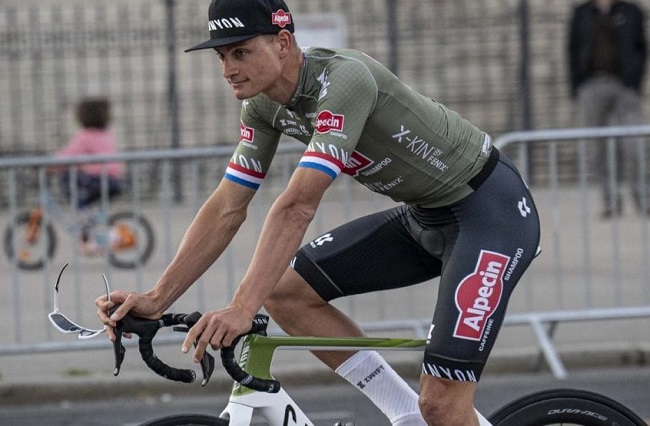 Mathieu van der Poel is dreaming of wearing the pink jersey but he wasn't particularly optimistic about his chances of winning the opening stage at the 2022 Giro d'Italia.
"It's not obvious to drop the sprinters there," he said about the final climb of first stage.
The stage between Budapest and Visegrád ends with a climb of 5.5 kilometres with a gradient of just over 4%.
"That finish is indeed quite difficult," Van der Poel agrees. "But it will not be self-evident to get rid of the fast guys. It will certainly not be as easy as everyone thinks."
Van der Poel will start the second grand tour of his career on Friday and he maintains that he wants to finish both the Giro and the Tour this year.
"No, I don't see this Giro d'Italia as preparation for the Tour de France. I have my goals here and I look forward to them. It will be a nice experience anyway. I've always found the Giro to be one of the best races of the year, even though I've never raced it. But I am a fan of Italy. And I saw Dumoulin win on TV five years ago. That was cool."
"And yes, I really want to finish this Giro, but I also have to wait and see how my body reacts. There are, however, a number of question marks in this regard. Such as: how do I digest that third week? In addition, the cols in that final week are completely unknown territory for me."
Van der Poel was asked a question about the time trial on Saturday. If he doesn't manage to get the pink on Friday, he can try again on Saturday. But he hasn't worked on that specifically, he says.
"I was on the time trial bike once this week. Last year in the Tour that went well, so there was no need to adjust that position. Maybe I should do some more work on that."