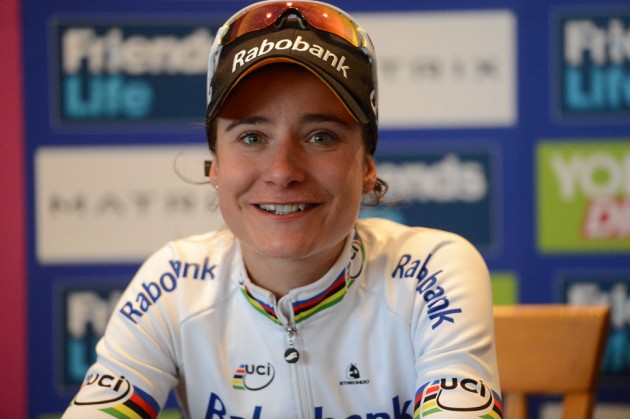 While the current Rabo-Liv team will not continue after this season, former Olympic and multi-time world champion Marianne Vos announced in September she would continue with the team under the new Fortitude Business Peloton enterprise.
Fortitude announced the signing of a long-term title sponsor for the women's racing team, which will support Vos and her team through the 2020 Olympics.
Sustainable energy consultant company, WM3 Energie, has signed a five-year contract with the team which will be racing under the name WM3 Pro Cycling. With its sponsorship, WM3 Energie hopes to become a leading name in cycling.
"We can't achieve a sustainable world, in just one day. We see a terrific goal for ourselves and we are working towards it, step by step. Just like the team is; with its sustainable mission in sports, with the ultimate green transport machine: the bicycle. The idea of training riders and them being a source of inspiration for the growing group of recreational and sports cyclists, really appeals to us. That is why we are happy to be a part of it, for many years to come," said WM3's Peter van Tuijl.
In addition to Vos, WM3 Pro Cycling's roster includes five current Rabo-Liv riders: Yara Kastelijn, Jeanne Koreveaar, Dutch road champion Anouska Koster, Polish road and time trial champion Kasia Niewiadoma and Moniek Tenniglo.
Coming from other teams are Lauren Kitchen (Team Hitec), Valentina Scandolara (Cylance Pro Cycling), Riejanne Markus (Liv-Plantur), Anna Plichta (BTC City Ljubljana) and Israeli rider Rotem Gafinovitz.