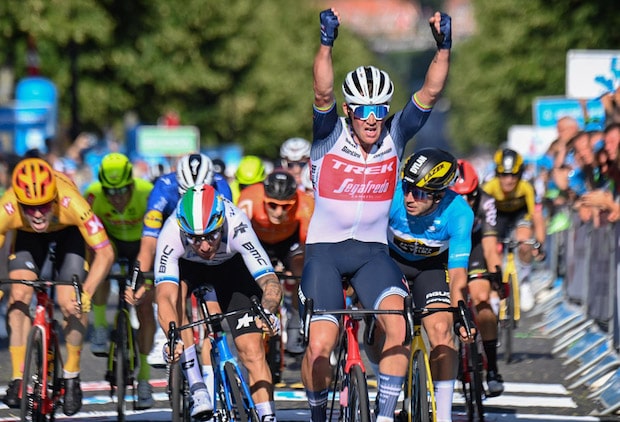 Former world champion Mads Pedersen took the victory in the second stage of the Tour of Denmark on Tuesday on an uphill cobbled finish seemed custom-made for him.
You can rewatch STAGE 2 of 2021 Tour of Denmark HERE
The Trek-Segafredo rider maintained a position in front of the pack during the last lap and as the pure sprinters were waiting to accelerate at the last moment he made his move with anticipation and crossed the finish line ahead of the top-two riders of the first stage: Dylan Groenewegen and Giacomo Nizzolo.
"My plan was to overtake the sprinters and then go on the left, close to the barrier, so they would be in doubt to go on the left side of me and take a longer way around me," said Pedersen. "Luckily it was enough to stay in the front.
"This is never an easy finish – uphill and a headwind – but I believed I could win. It was also a hard race today, and the last laps were really hard with Remco (Evenepoel) doing a crazy tempo for almost two and a half laps alone, pulling really really hard. It was just a hard day, and I know after a hard day like this, I can still do a good sprint. he team did a really, really good job today. When it split in the crosswind, we were three guys there, and the moment the second group came back, the whole team was in the front within minutes. Just super-good work by the boys today."
The podium trio also retain the top three spots in the general classification. Groenewegen is in first, Nizzolo second four seconds behind, and Pedersen six seconds off the lead pace.