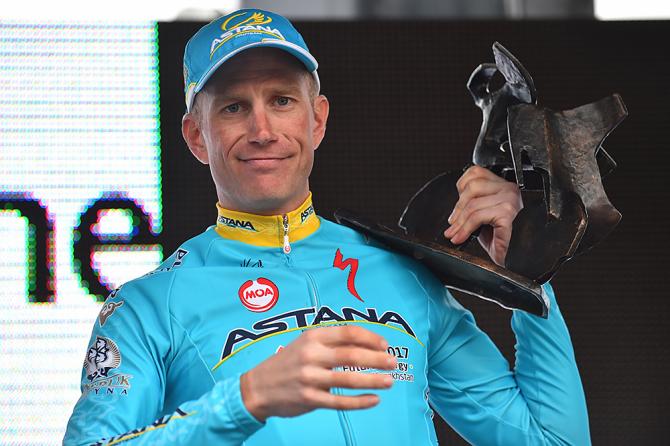 Former Astana rider Lieuwe Westra has admitted abusing the therapeutic use exemptions (TUEs) to get past anti-doping tests and to enhance his performance.
In his new book, The Beast: The cycling life of Lieuwe Westra, the Dutchman says he would feign injury, such as inflammation of the knees, to secure a prescriptions for cortisone. His reason for seeking the substance when he really wasn't injured was because he knew it would improve his performances.
"I received the TUE often with a feigned injury, for example an inflamed knee," Westra says in his book.
"I shot [the drugs] into my own body to cycle faster, to grab prizes, to receive compliments. In my first professional year it became clear to me that with no victories were achieved purely through hard training," Westra admits in the book. "If you wanted to join the big boys, you had to push the limits of the permissible."
"I think the team management did not want to know what was going on in those years: they could not be called on. Although they often knew it, of course, but we did not talk about it openly. We had to perform and it did not matter to them, as long as we were not caught. Ignorance is bliss."
Astana said in a statement they were shocked to read about Westra's admissions of drug use while on the Kazakh team.
"We're shocked to read about Lieuwe Westra and his use of drugs in the period he had a contract with Astana Pro Team, as the team never provided him with any of the medicines that are mentioned in the media today," read a statement from the team.
"We're shocked about the news and we want to make clear that at Astana Pro Team forbidden drugs are never and will never be provided to any rider.
"In case that the use of prohibited drugs really took place, Astana Team reserves the right to demand financial compensation from the rider, since the use of doping is strictly prohibited by the internal regulations of the team, which is signed by each rider."