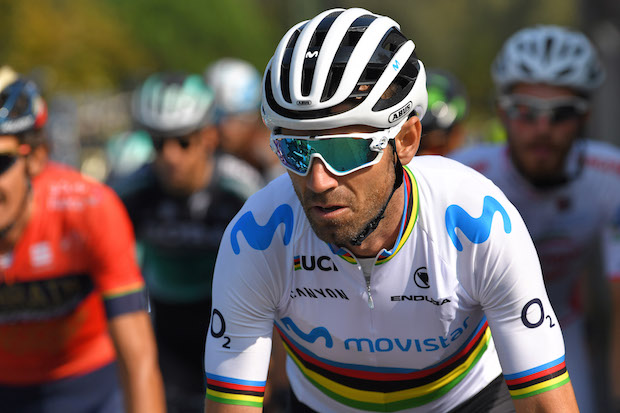 Alejandro Valverde, who this Saturday is officially retiring as a professional cyclist, said that winning the world title in 2018 at the age of 38 has been "the highlight" of his long and successful career and that from there he could "retire calmly".
The 42-year-old veteran, who puts an end to 21 years of career at the highest level, has referred to the achievement of September 30, 2018 in Innsbruck at the World Championships.
Valverde has accumulated 133 successes in his professional career, his last victory being in the general classification of Gran Camino 2022, a race in which he also won his last stage.
"From the beginning of the season until the end, everything has been very nice. Everyone, at the start, at the finish… has made me feel very loved and being my last year, it has been spectacular for me and I have enjoyed a lot and it is also a pride to retire being at a high level and getting victories", he stated.
El Bala, winner of the Vuelta in 2009 and the first Spaniard to conquer the monument Liège-Bastogne-Liège, among many other achievements, has accumulated no less than 32 participations at the grand tours.
"In 2016 I did the Giro, Tour, Olympics and Vuelta. I did the big three and on top of that being in front and that is very complicated, but also very beautiful", said Valverde.
"I am methodical for everything and I like to train and enjoy and do it at home with the good 'group' we have, the environment, the weather… I feel very comfortable in Murcia and being able to train here. Having my teammates starting out is what has made me take the bike many times when I didn't feel like going out to train".
#GRACIASBALA 💙🚀 | #MovistarTeam2023@alejanvalverde pic.twitter.com/XcmHDmdrj5

— Movistar Team (@Movistar_Team) December 21, 2022