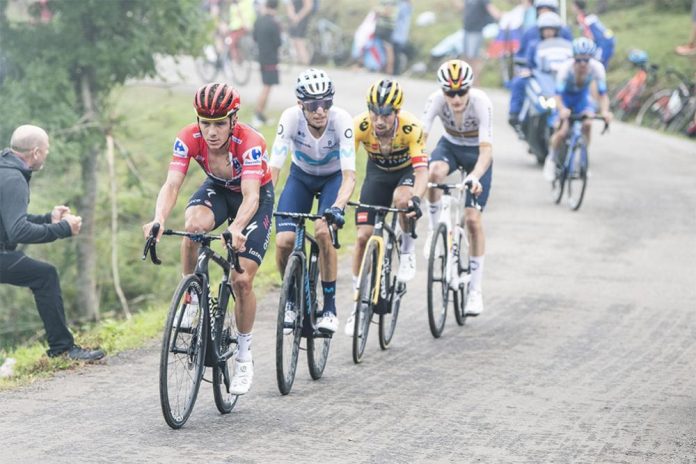 Jay Vine, cycling latest superstar, took his second win in what was the hardest stage till now. La Vuelta a Espana 2022 stage 9 promises a copy of the prior one with a little bit more difficult profile.
La Vuelta a Espana 2022 stage 9 preview
The stage will start with a terrain more favorable to rouleurs. But it will be climbers that will hope to hold on to be able to express themselves later on.
A day prior to the second rest day, fatigue is settling in. Riders will find it a tad bit easier to get into the break as compared to those furious racing we have seeing recently
Jay Vine will definitely try to be part of the day again to garner his mountain points tally. Mark Padun also look good and will be trying again. Even Thibaut Pinot will prefer to have a day in-front rather than trying to hold on to the bunch.
Slowly drifting out of contention, Trek Segafredo duo of King Kenny and El Patrone Lopez are chasing stages win and this is an opportunity that they will both relish.
The list of breakaway potential stage winners also includes big names like Mikel Landa, Wout Poels, Alexey Lutsenko, Vincenzo Nibali, Louis Meintjes, Carlos Verona, Elie Gesbert, Marc Soler and Brandon McNulty among others.
This time, the mid stage is packed with tougher climbs. The first categorised one is a category 2 one which serves as entrée to the first category one climb of the day.
The Mirador del fito is a 9km effort with an average gradient of 6%. Rather constant in a nature with sudden change in gradient, a tempo is expected from the breakaway and the main favourites group.
Two category 3 climbs then follow with an exciting conclusion. By that time the gap to the breakaway should have decreased to a minimum while teammates in the peloton are burned down.
La Vuelta a Espana 2022 stage 9 concludes up the terrible Les Praeres Nava wall, a 3.9 km effort with horrible percentages.
After a full day of climbing, the approach to this wall will be different. Whether a breakaway will have enough left in the tank to hold on or the favourites will come hovering for a stage win will need to be seen.
La Vuelta a Espana 2022 stage 9 predictions
★☆☆☆☆ Antonio Tiberi
A very long and unsual shot. The Italian has won on a punchy finish before. The day is long, this is a grand tour and he does not look very sharp. He nevertheless deserves to be considered if he manages to infiltrate the breakaway
★★☆☆☆ Carlos Rodriguez 
He looks like team Ineos best man with Pavel Sivakov. Both will be at the at the front end of the race. The Spanish gets the odds following his good form shown by being able to follow the best man.
★★★☆☆ Remco Evenepoel 
He is not the most brutal in terms of acceleration. The maillot Rojo has improved massively in above 10% climbs but to be able to be top of the class already will be an an exploit; something Remco is not stranger to.
★★★★☆ Enric Mas
Second to Remco on stage 6. Second to Roglic in stage 4. The Spanish rider is indeed in better form than we were expecting. He has a clear chance to raise his hand at La Vuelta a Espana 2022 stage 9
★★★★★ Primoz Roglic
He is going to hit hard. His form and injuries have been a matter of interrogation so far. But a 3.9 km wall effort is well within his ability to send some of his opponents to the tarmac and gain back some seconds, prior to the ITT.
An exclusive post by A LeadOut for Cycling.today
Vuelta a Espana 2022 – stage 9 on Sunday 28th August, starts at 12:30pm Central Europe, 06:30am U.S. Eastern on