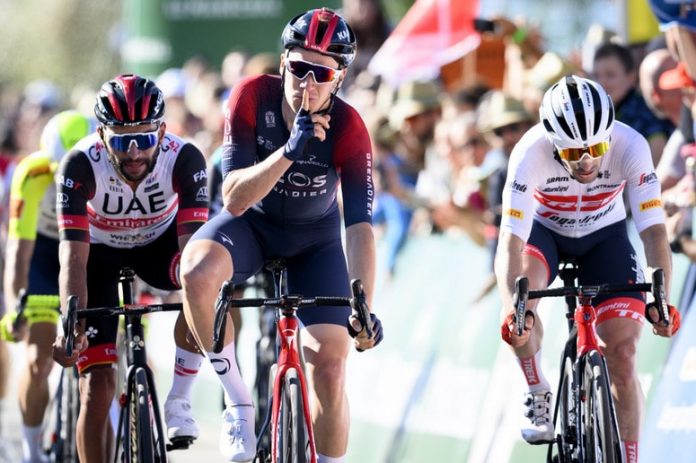 After 3 days in Netherlands, the peloton heads back to Spain and Bang! La Vuelta a Espana 2022 stage 4 marks the start of a different race with the profile definitely less flat!
La Vuelta a Espana 2022 stage 4 defines more what the Vuelta is about a never flat terrain where riders try hard to get into breaks and if they stick together get a nice chance of making it while behind teams, should they decide to pace to bring gap down or keep the break away in range, constantly use men and find it difficult to handle the finale.
La Vuelta a Espana 2022 stage 4 preview
The stage will begin in rush mode with number of riders trying to get ahead to arrive at the 2nd category Puerto de Opakua first in order to get the maximum points and most proabably wear the Polka Blue Jersey at the end of the day.
From then on, will begin another face of the race with teams interested with a stage win showing up and chasing the breakaways. There are number of riders who would feel comfortable with the finish but it will depend on how any men they wish to commit that early in a grand tour with following days  becoming more and more demanding.
The finale of the day is delicious, starting with the intermediate sprint where fast men who had passed over the 3 previous obstacles will try to get the maximum points in case big boys like Sam Bennett or Mads Pedersen are already through the back door. Should they still be there, this will the terrain for their last ditch energy.
The Puerto de Herrera comes next, this 7.3 km will be where the Quick Step Alpha Vinyl and Ineos Grenadiers will push things to thin down the peloton. With 14km to go from the crest, it will be the occasion for someone like Remco Evenepoel to try to set off alone.
The last 2.5 km is a punchy climb with gradient reaching up to 10% in the last 500 meters.
La Vuelta a Espana 2022 stage 4 predictions
★☆☆☆☆ Mads Pedersen; Patrick Bevin; Jake Stewart
All 3 are fast finishers who can get over climb pretty well for sprinters. The former world champion, Mads Pedersen, seems to be in really good shape after finishing second to Sam Bennett twice. He can hold on in short climbs but the nature of the final 500 m could a little too much for him.
Patrick Bevin could on his side try to get into the breakaway and try to win from there. Should he still be in the peloton, he is not a rider who is easily shaken off and will be part of the finale
Jake Stewart, the british rider has made it clear that he has eyes on stages like this; "stage where the fastest men will be absent at the finish". His team will try to pace fast enough to lose the big sprinters but not too fast to put their own man in difficulty and this is easier said than done.
★★☆☆☆ Remco Evenepoel
He is eager to make a statement and his character suggest that he will do it as early as possible. His best chance lies in attacking at the last categorised climb and get away not to be seen again. His threat as a general contender however means that he will be watched and followed by whole teams like Team Jumbo Visma or Team Ineos Grenadiers.
Remco is unpredictable and inevitable at some time and he could try to get away on a solo raid much earlier.
★★★☆☆ Alejandro Valverde
This is the type of stage that defined him throughout his career. In his last Vuelta ever, he is looking for a stage win and could get it as soon as stage 4. As certain as we are that he will be part of the finale after putting his Movistar team-mates to work, he will probably not be the fastest man up that final 2,5 km punchy finish
★★★★☆ Julian Alaphilippe; Primoz Roglic
The world champion, Julian Alaphilippe would have been the undeniable favourite to be lifting his hand at the finish had he not been out for nearly half the season. This probably wont matter though as there is almost no one who has that turn of speed he has on short climbs.
Primoz Roglic left the Tour early in pitiful state to recover for this Vuelta. He has won races like this before and will be wanting to make a statement here. He has the full armada of Team Jumbo-Visma to help him keep everyone in check before he sets off in the final metres.
★★★★★ Ethan Hayter
We have seen very little of the British sensation since the start of this Vuelta. Far from contention in the two sprints, Ethan Hayter has been saving himself for days like this. He can count on his incredibly strong team to keep everyone in line for him to be unleashed in the final meters, with a possible Red Jersey at the end.
An exclusive post by A LeadOut for Cycling.today
Vuelta a Espana 2022 – stage 4 on Tuesday 22nd August, starts at 14:45pm Central Europe, 08:45am U.S. Eastern on