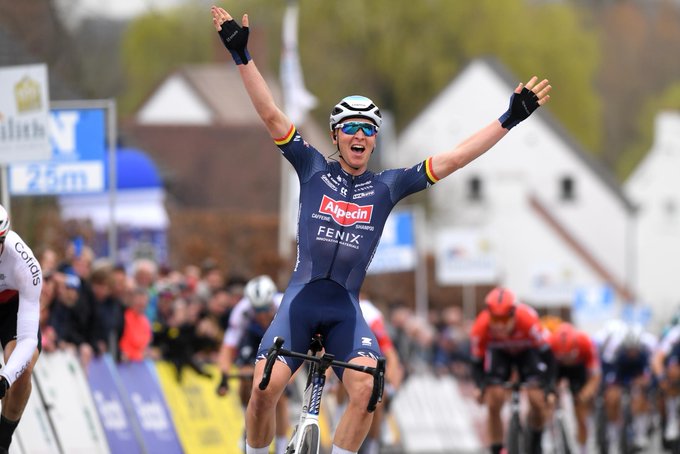 La Vuelta a Espana 2022 stage 2 will be the scene of fights for the other jerseys in the street of Utrecht. While it seems very likely the Rojos jersey will stay within the Team Jumbo Visma, the fight for the green, white and polka jersey will be intense.
La Vuelta a Espana stage 2 preview:
A early breakaway with riders from Burgos, Euskatel and pharma Kern will be formed. Joinging them will be some Dutch hopeful. The goal of all of them will be to get that 1 point at the Alto de Amerongse, 100 km into the day.
Next will come the sprint with 15km to go where those aiming for the green jersey will show themselves.
The closing of the stage is close to the sea, meaning winds. Tim Merlier's Alpecin Deceuninck will be hoping to keep things under control. The rather comfortable 13 second cushion made by Team Jumbo Visma, means that there will be very few attempting to snatch the red jersey. Team Ineos grenadier for Ethan Hayter and Bora Hansgrohe for Dutchman, Danny Van Poppel are the only realistic ones to attempt something. While their main ambition is clearly to protect their climbers, Trek Segafredo will have Alex Kirsch and Dan Hoole create havoc for Mads Pedersen.
La Vuelta a Espana stage 2 predictions:
★☆☆☆☆ Gerben Thijsen
He will half a team dedicated to bringing him to a sprint, that in case he makes it will be one of the first man.
★★☆☆☆ Mads Pedersen
He is fast but has rarely won an out to out pack sprint always finding someone faster than him. A win for him, will come in an unconventional manner by taking advantage of the terrain and wind exposure.
★★★☆☆ Kaden Groves
Whatever the race circumstances, he is surrounded by strong powerful riders. With no real pressure on the team, they will take anything comes.
★★★★☆ Ethan Hayter
If there is a team with the capacity and reason of trying to break the race and create it will be Team Ineos Grenadiers. They will benefit from it by placing their main sprinter in this race, Ethan Hayter in a sprint and be at hand distance from the leader's jersey.
★★★★★ Tim Merlier
The fastest of the bunch with a team fully to his cause. They will be working all day and that might play an effect in the closing part. But if they manage just to bring Merlier to a sprint, i don't think he can be beaten.
You can watch the action unfold with us here
LIVE STREAM: Saturday, 20 August, starts at 13:00pm Central Europe, 07:00am U.S. Eastern
An exclusive post by A LeadOut for Cycling,today.