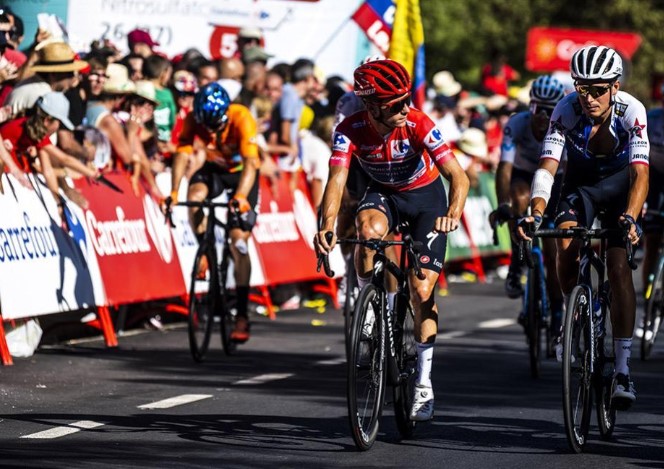 All those complaining of boredom endured since the start of this Vuelta have eaten their own words. We had too much drama for everyone taste and everyone, even Remco's biggest fan will hope that Primoz Roglic will be okay to start La Vuelta a Espana 2022 stage 17.
La Vuelta a Espana 2022 stage 16 review:
After forcing a move in the last 2 kilometers the stage 16, Primoz Roglic placed himself on a throne without knowing that Remco Evenepoel had the luckiest of mechanical issues ever. While we were still debating as to whether the belgian will be credited with the same time, drame struck. Primoz Roglic's handle-bar caught Fred Wright's and the Slovenian was sent to the tarmac.
Completely overshadowing another amazing win of Mads Pedersen, the image showing the state of Roglic looks nothing near reassuring. The Slovenian was indeed gaining in momentum in this vuelta's last week and as of now no update has been given as to the damage sustained.
La Vuelta a Espana 2022 stage 17 preview:
Should Primoz Roglic not be able to start this stage, there will already be a state of depression in the peloton and a break away win is ensured. But the Slovenian is such a fighter, we expect him to make the start. Depending on how he feels with respect to either staying safe a finishing the day or taking the race to Remco again.
La Vuelta a Espana 2022 stage 17 is indeed nothing of flat. The short undulating terrain will indeed suit a baroudeurs/ break away rider. Thomas De Gendt is the GOAT of winning this type of stage. Julien Bernard, Fred Wright, Luis Leon Sanchez, Jan Bakelants, Filipo Conca, Allesandro de Marchi and Chris Froome ( yes he is still here) are all riders that could make it till the end.
The biggest difficulty to win from a break away is to form the right one. The start of the stage is descending and is expected be fast. No riders will be able to form the right one in the first 20 km. From then on, it will just be a matter of form, power, and definitely luck to be in the right move. Mads Pedersen might indeed be in to drive his guys or he could try to ride with the peloton and again win.
 This is  the final ramp that leads us to the line. 10.3km long and classified as second category, it definitely not a simple ramp and serious damage can be made.
All eyes are on Primoz Roglic, was it not for his crash in stage 16, he would defintely have been among the favourite to not only win but break the race apart. Following his latest mishaps, it is most likely that La Vuelta a Espana 2022 stage 17 will be a day that the Slovenian will be on his back foot and hope to survive without losing any time.
La Vuelta a Espana 2022 stage 17 predictions
★☆☆☆☆ Chris Froome/ Alessandro De Marchi
Either of the two veterans being in the breakaway will be a serious contender for the stage win. They are not the fastest guys but they sure are not the easiest to drop. The final climb does indeed suits Chris Froome  more with his coffee machine style.
★★☆☆☆ Luis Leon Sanchez
Another very experienced rider who has won stage like this before and is a force to reckon with. He will know exactly when to go for the break away, when to work hard and definitely how to ride as his own pace.
★★★☆☆ Thomas de Gendt
Experience is the key to winning a grand tour stage and there is no one that come close to Thomas De Gendt. A career built around a generous effort and insatiable hunger, he has shown in the Giro that he still know how to win big!
★★★★☆ Mads Pedersen
He is the man of the moment and will be missed in the World Championship. We have yet to seen his true limit in climbing as any mountain stage promised to pure climbers, we have the man in green in the break away. The final climb does indeed seem to be a tad too hard for him to able to sustain 8% constantly over the last 5km. But you really never know, as he seems to have acquired a taste of getting into breakaways as well.
★★★★★ Fred Wright
We take the same and we begin again. How much longer can a rider keep knocking at the door of victory. He has completely exceeded expectation by taking his Tour de France explosion into the Vuelta. The first win is not far and La Vueta a Espana 2022 stage 17 suits his abilities even more!
An exclusive post by A LeadOut for Cycling.today
Watch La Vuelta a Espana 2022  live and free on cycling.today on either of the two links