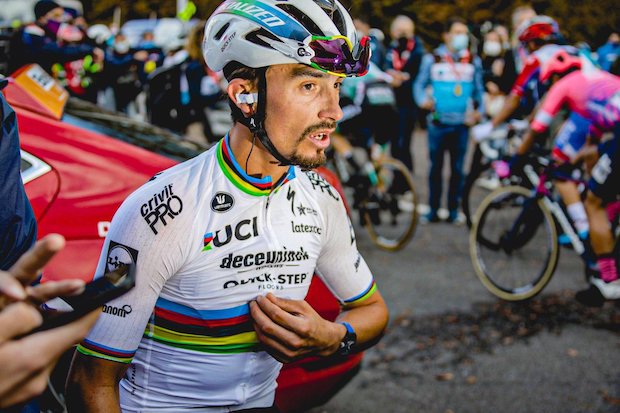 Julian Alaphilippe was then penalised for an irregular sprint and dropped from second to fifth place at Liege-Bastogne-Liege after swerving into the path of Marc Hirschi during the frenetic final sprint.
A photo finish showed that Primoz Roglic narrowly beat Alaphilippe after the Frenchman lifted his arms in celebration and coasted to the line.
"I'm obviously disappointed not to have won," Alaphilippe said. "With a cool head, having recovered a little, I watched the footage and I really didn't realise I'd made such a severe deviation. That was the first error.
"The second error was to lift the arms a bit too early. It's the first time in my career that's happened, and I think it'll also be the last. I prefer to be relegated having finishing second, than if I'd have won.
"I want to apologise for what happened to Hirschi, and thank my team for the work they did today. I'm still happy to show the jersey at this race, and I gave my all, but more than anything I'm sorry, and disappointed," the world champion said.
"It was a nice day, a tough race with a lot of wind, and I gave my all. I don't have any regrets, because even if I won, I would have been relegated. I honoured the jersey and it was a special feeling to race La Doyenne with it," Alaphilippe said.
"I think I managed the finale well. It wasn't easy – I felt the pressure of the jersey and all the riders working against me, but that's normal. I made the selection on the Roche-aux-Faucons, but there was an attack from Hirschi that really hurt.
"In the sprint, with the return of Mohoric, it was perfect, up until that deviation and up until I raised my arms too early. These are things that happen in a career – it's just a shame it happened at La Doyenne. As I said, it was the first and last time. In any case, we have a great winner in Primoz Roglic."