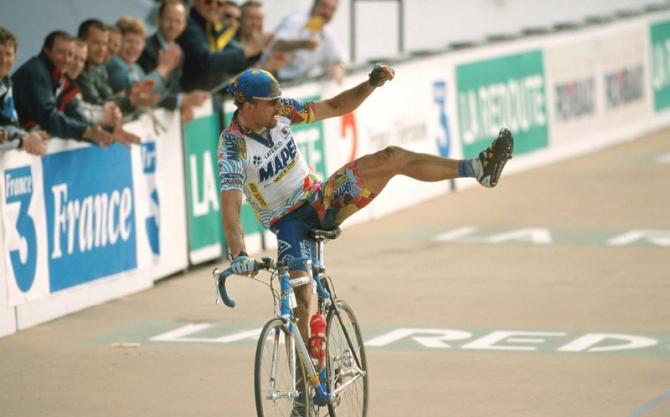 Johan Museeuw, known as the Lion of Flanders, for his three wins at Tour of Flanders during his career, met a new challenge this week as he participated in a 24-hour bike ride to raise money for charity.
'The Warmest Week' at the Centrum Ronde van Vlaanderen in Oudenaarde asked riders to pedal on trainers, beginning at 10:00 a.m.
The 51-year-old Museeuw rode to raise money for the non-governmental organistion Flemish Refugee Action.
"The public was here until 5:00 a.m. and at one point there was even a party," he told Sporza from the bike in the final hour. "The time went by quickly, until everyone went home. But now we're in good company for the last hour."
"I've been thinking a lot on the bike and I did that here. I thought a lot about what is happening in the world, what is going wrong in it. This was a statement that we should try to do something about it. But for me it is a personal challenge."
Asked if he will participate again next year he said, "It will be a different challenge; I've underestimated this. A man is not made to sit on his derriere for 24 hours!"
@rvangucht @johanmuseeuw @stubru Johan is vertrokken! Tot straks Ruben! pic.twitter.com/8FkhW39QAw

— CRVV (@CentrumRVV) 21 decembrie 2016