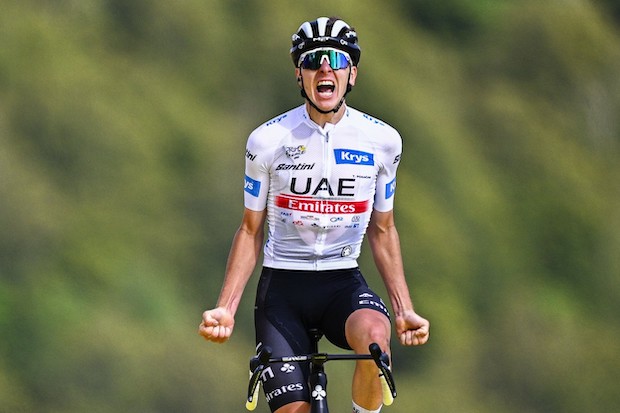 Professional cycling has had a funny way of dividing opinions – you're either a die-hard fan or you'd rather skip it altogether. But let me tell you, it's been making quite a splash in recent years. Just look at the Tour De France – it's an absolute spectacle that has captivated millions across the globe. And as the sport's popularity skyrocketed, so did the investment pouring in from eager spectators and sponsors.
Thanks to their remarkable skills, some of the top-notch cyclists in the world are now raking in more moolah than ever before. Curious to know who the big earners are in the cycling realm? No need to wait any longer. Let's dive right in and uncover the secret.
1.  Tadej Pogacar
No one would be shocked to find out that Tadej Pogacar, the two-time Tour De France champ, claims his rightful spot at the peak of our ranking, just as he did in Paris during the summers of 2020 and 2021, rocking that yellow jersey. At a mere 24 years old, this Slovenian sensation reigns as the richest cyclist globally, pocketing a jaw-dropping €6m in the 2021/22 season. After being stunned by Denmark's Jonas Vingegaard last time around, this popular cycling sportsbook has made Pogacar the +200 second-favorite for success in next year's Le tour. Naturally, the reigning Danish champion is the short-priced -135 favorite though.
This young cycling prodigy has captured the hearts of fans worldwide with his incredible talent and achievements at such a tender age. Not only is he a favorite among the cycling community, but his marketability has also attracted sponsors who generously support his promising career. Back in 2019, he began his professional journey with the UAE Team Emirates, and ever since he's been racking up numerous prestigious awards and accolades.
Let's not forget his jaw-dropping performance in 2020 when he claimed victory in the Tour de France on his very first attempt, earning him the title of the youngest winner in over a century. It's safe to say this exceptional youngster is rewriting the record books in style.
2.  Chris Froome
The realm of British sports has been graced by an abundance of remarkable stars throughout the years. When pondering sporting sensations hailing from the British Isles, the iconic names of David Beckham, Lennox Lewis, and Jonny Wilkinson effortlessly come to mind. However, to truly appreciate the magnitude of sporting excellence, one must not overlook the extraordinary prowess of Chris Froome. Considered by many as one of the greatest-ever exports, Froome's astronomical €5.5 million earnings last season only solidified his status as a bona fide superstar.
Froome, the man with the wheels, was born in Kenya to British parents back in '85. He then jetted off to South Africa as a little nipper and kicked off his racing career while still in school in Johannesburg. He officially hit the pro scene in 2007 with the South African crew, Konica Minolta. But it didn't stop there, and Froomey moved on to Team Sky where he absolutely smashed it, bagging an incredible four Tour de France wins. And get this, three of those wins were back-to-back-to-back from 2015 to 2017.
After some nasty injuries that could have ended his career, Froomey's back in the saddle and ready to tear up the roads once again. After finishing in the top 30 in France last year, he's got his sights set on that yellow jersey one last time before he hangs up his boots. He will have a job on his hands, however, if he plans on accomplishing his herculean task if the betting odds are to be believed. They gave him a +60000 shot at victory.
3.  Peter Sagan
Peter Sagan, the Slovakian superstar, secures a solid third spot in the rankings, pocketing a healthy paycheck of €5.5 million. At the age of 33, this cycling sensation boasts an impressive list of accomplishments, including seven coveted green jerseys, three world championships, and countless victories in esteemed European tours. With his magnetic charisma and highly marketable persona, it's no wonder he has become a beloved figure among sponsors.
From a tender age, he hopped on a bike and swiftly showcased his mad skills. Born in Slovakia back in '90, he went pro in 2010, and at the ripe age of 22, snagged his first Tour de France stage win in 2012. Sagan's got more titles than you can shake a stick at, including the jaw-dropping feat of nabbing three UCI Road World Championships in a row from 2016 to 2018. But it's not just his crazy good cycling talents that get folks talking.
Oh no, it's also his magnetic personality and hilarious shenanigans that make him a fan favorite worldwide. They even gave him the monikers 'Peter The Great' and 'Three-Pete'. And let's not forget about the dough he's raked in throughout his career – estimates put his net worth at a cool $15 million.