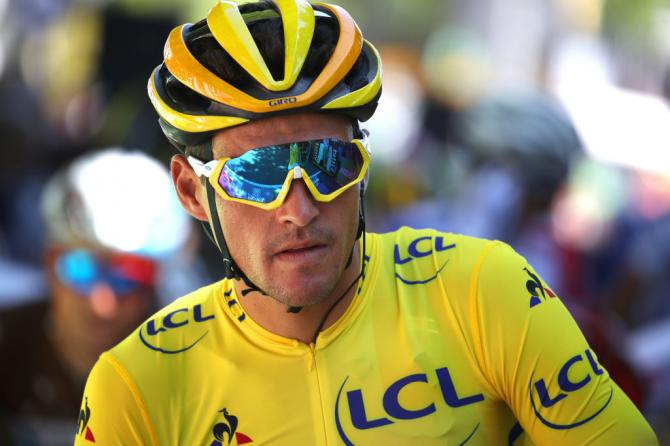 Tour de France stage 5 delivered an explosive finale in Quimper as Greg Van Avermaet (BMC) sprinted to seventh on the line to secure the yellow jersey for a third day.
"I was trying to win the stage that's for sure but it was pretty complicated", said Van Avermaet. "Phil [Gilbert] went early and he is up there on the GC so I couldn't let him go and I had to ride by myself. Then, I think I went a bit too early on the sprint. I thought the corner was closer to the finish and that's the thing that went wrong I think. However, we gave it a try and we also didn't lose any time with Richie. The team did a perfect job to put us into position in the final."
"It was a really demanding day for a lot of guys and I think the team did a great job all day. We spent a lot of energy but I think on these kind of days you can lose more time than on a mountain stage so it's better to do that. I think we did great today so we will see how it goes tomorrow".
"Having the yellow jersey gives us a little more space in the peloton and Richie is the kind of rider who likes to be in a good position up at the front all day. We are still focusing on the podium in Paris but will continue to take it day by day and try to make the best results possible as we go along."
"I've already raced here in Finistère this year and it was maybe worse then than it was today because when you're not 100% fit it hurts", added Porte. "But, the guys were fantastic today. They controlled everything and everybody played their part. It was a hot and tough little stage and it's just nice to get through it."
"I felt good today so hopefully tomorrow we can do something. Some of the climbs we did today were just as hard as the Mur de Bretagne, it's just about how fast you are going. Today we raced super fast and it was by far the hardest stage of this Tour so far."