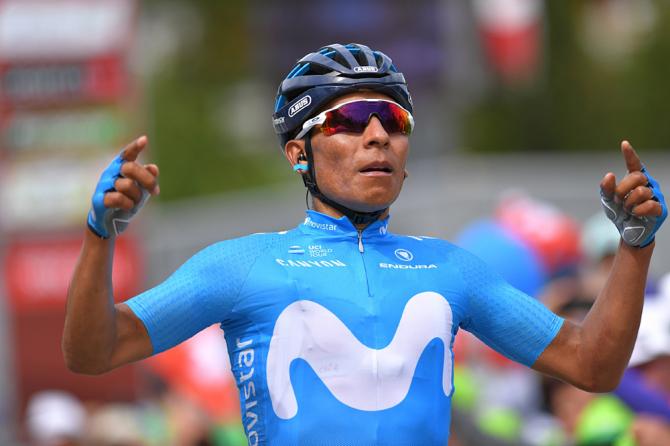 In an interview with Cyclingnews, Greg Lemond weighed in on Nairo Quintana's Tour de France chances, expressing his doubts over a victory of the Colombian in the French grand tour.
"I keep hoping he's going to be a favourite, but I would love to be his trainer and understand what he does," LeMond said.
"He's not explosive. You can't go spend eight weeks at 10,000ft – your red blood cells go up but your power goes down. He lacks the ability to attack and break away. He's always steady-state. It's a surprise he hasn't followed through on his potential. In 2013 he was second place. He's a great talent, but I don't think he will ever win the Tour."
"I think Fuglsang is a favorite but I don't think he'll be there in the end. He's a good rider but I think Geraint Thomas has been quietly getting in shape. It's never really what you do in the Dauphine, it's what you do in the Tour."
"I think [dual leadership] takes the pressure off, actually, if you have a smart director. Thomas won it last year – but it's not like he's a three-time Tour champion. It's like Fignon and I – I could have done the Tour that year when he won it [1984 -ed]. But I decided Worlds was my objective that year. It was awkward, and I didn't really race as well as I could have. I got sick in the beginning, so it didn't end up being a conflict.
"With a good director you can use that to your advantage. Somebody has to be willing to sacrifice themselves, it might be Geraint Thomas, it might be Bernal. If you don't have Froome there, I think you're better off having a couple guys there who are really good, who can play off each other.
"It's nice to think of the old days when you have just one leader, but look at what happened with Chris Froome – you put all of your money into one guy only to have them crash. It's better off having multiple riders who can win the Tour. It's better to go in strong. I think it's good to have two leaders. No matter how it plays out, if they're very close it can make for a very interesting race."