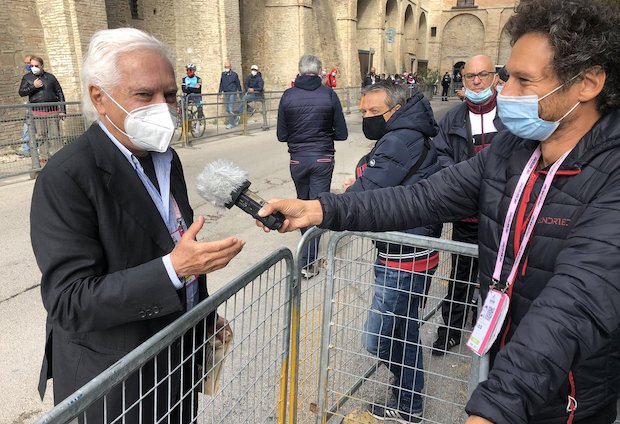 EF Pro Cycling team called earlier this week for the Giro d'Italia to end on Sunday, citing a "clearly compromised" coronavirus bubble following first rest day COVID-19 cases.
Before stage 10 of the Giro, Mitchelton-Scott and Jumbo-Visma teams withdrew from the race following positive tests in their camps.
"With a clearly compromised bubble," EF's letter said, "and an expected lag between exposure and symptoms/positives, it must be expected that further illness will result. This is not a given, but the precautionary principle would suggest we act responsibly and adopt a conservative approach".
"For the health and safety of riders, staff, and the communities through which we race, we recommend that the Giro be stopped early. We believe it would be better for the Giro and the UCI World Tour should this be done in a systematic, holistic way versus a chaotic withdrawal on a team by team basis. The second rest day seems a natural break in the race to declare winners and a successful 2020 Giro d'Italia."
The UCI has already denied the request, saying that all involved are ensuring the race stays as safe as possible.
"What EF did yesterday was absolutely inopportune, unqualifiable and totally shameful," Androni Giocattoli-Sidermec manager, Gianni Savio, said. "I feel there was a total lack of respect towards the organisation and also to us. At the very least, they should have spoken with the other teams. We certainly would never have shared their opinion. Addressing the UCI directly with a request like that is absolutely shameful."
"Some teams at the Tour were always silent, they never raised their voices. I'd like to ask this question of EF: are they going to go to the Vuelta? If they're afraid of COVID, then why go to the Vuelta?" added Vini Zabù-KTM boss, Luca Scinto.
"It's normal to be afraid, we all feel it. But the problem is that at the Tour, they were all quiet but now at the Giro, they're giving themselves permission to leave. Mitchelton's situation was different, because they had a lot of cases and it was correct to make that choice, but if [Primoz] Roglic had come here to win the Giro, would Jumbo-Visma have left the race?"