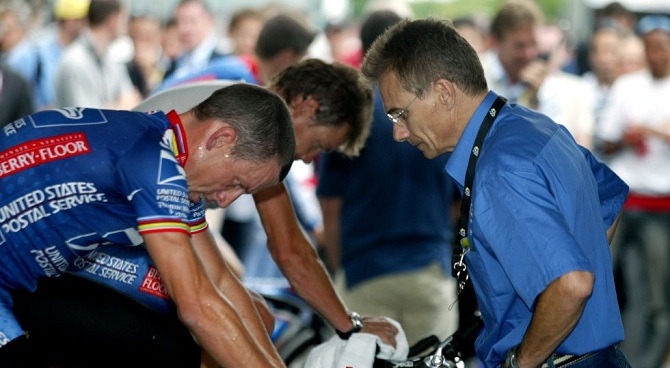 (Reuters) – A former doctor for Lance Armstrong's U.S. Postal Service cycling team has had his lifetime ban lifted following his testimony against Armstrong team manager Johan Bruyneel.
Luis Garcia del Moral, a Spanish physician who worked with the Armstrong team and formerly practiced sports medicine, "has been granted a reduced period of ineligibility that supersedes his previous lifetime sanction from USADA and he is no longer under sanction with immediate effect," USADA said in a news release.
The announcement came two days after Bruyneel was banned from cycling for life after a successful appeal by the World Anti-Doping Agency (WADA) to the Court of Arbitration for Sport (CAS).
CAS also handed doctor Pedro Celaya a lifetime ban while trainer Jose "Pepe" Marti had his period of ineligibility increased to 15 years from eight.
USADA said the CAS panel of arbitrators found del Moral's testimony in the case to be credible, truthful and useful. According to the decision, the panel regarded del Moral's testimony and email evidence as "the straw that literally broke the back of Mr. Bruyneel's evidence," USADA said.
Armstrong's U.S. Postal Service team, which changed its name to Discovery Channel after a change of sponsors in 2005, had opted for arbitration when anti-doping charges were originally leveled against them in June 2012.
Armstrong was stripped of his Tour de France titles and given a lifetime ban in 2012, finally admitting his use of banned substances in an interview with Oprah Winfrey in January 2013.
Del Moral and two others had been banned from cycling for life by USADA in 2012 for anti-doping rule violations while with the Armstrong team.
Four years later Del Moral agreed to provide testimony at the CAS hearing regarding Bruyneel, Celaya and Marti.
His lifetime ban would be reduced to five years in the event he provided truthful testimony and full cooperation, USADA said.
But the agreement stipulated any reduction would not take effect until a final determination was reached in the case against Bruyneel, which occurred on Wednesday.
Bruyneel was initially banned for 10 years in 2014 by the American Arbitration Association North American Court of Arbitration for Sport (AAA) for helping orchestrate an elaborate doping program that helped Armstrong to seven Tour de France titles.
"If a lifetime ban is a possible sanction, as it is, the Panel sees no reason why it should not be imposed in this case for Mr. Bruyneel's active involvement in widespread, systemic doping in the sport of cycling spanning many years," CAS said in its ruling on Wednesday.
Bruyneel acknowledged in an open letter sent to cycling websites that "mistakes have been made", but that he still felt USADA did not have the jurisdiction to bring charges against him.