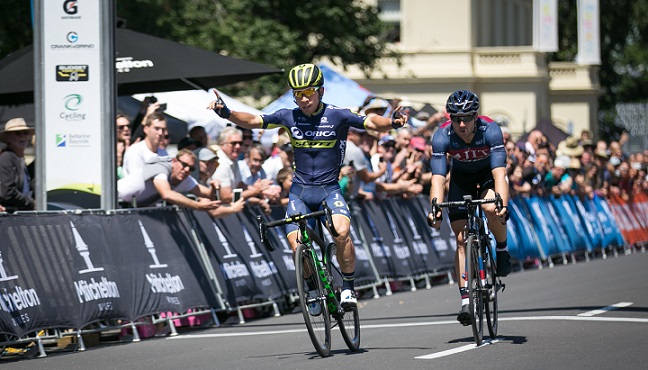 Three-time overall champion Caleb Ewan has waited until the final day of the 2017 Mitchelton Bay Cycling Classic to raise his hands in victory. 
Ewan sprinted to victory ahead of Brenton Jones (JLT Condor) and Mathew Gibson (Condor) in Williamstown, having crashed out of contention on day one in Geelong and supporting teammate Michael Hepburn to victory in Portarlington yesterday.
"Yesterday I had a bit of a hit out and today, to win the sprint, gives me confidence for the races to come," Ewan said.
"My success here has been down to hitting out pretty early. I start my sprint from more than 300m, I don't know why it catches people out because I have done it the last few years, but as long as I keep doing that and getting to that final corner first I am pretty positive."
Behind Ewan, Jones and Gibson, Ian Bibby was finishing strongly to turn his good fortune on stage 1 into overall victory at the 2017 Bay Crits. While he came into the series in good form, Bibby admits winning stage 1 was a surprise and likewise for the overall.
"I can normally ride crits alright. I think I've got quite good form at the moment, which helps. But I was looking at a lot of the other lads for the series and the first day a bit of luck got me in the jersey," Bibby said. "That was the plan then and luckily I've got quite good legs and managed to get a result on the other two days. Bit of a surprise, but it's good."