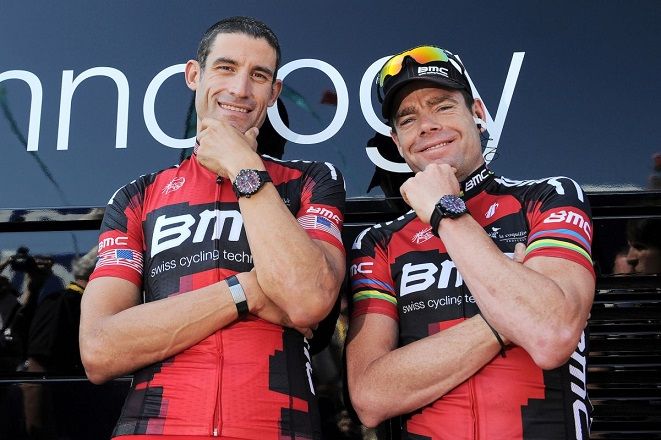 Cadel Evans and George Hincapie are set to get the band back together again but this time it's on the dirt at the 2017 Absa Cape Epic.
"Ever since I first heard about the Absa Cape Epic, I have wanted to try it. But they tell me it's very hard," said Evans about the grueling 8-day mountain bike stage race which starts at Meerendaal, South Africa, on 19 March 2017.
"We are extremely excited to welcome two of the world's leading cyclists into our Absa Pride family and I know that the support and camaraderie they will experience during their first tilt at the Absa Cape Epic will inspire them to 'Conquer As One'," said David Wingfield, Head of Marketing: Barclays Africa.
Cadel Evans started his career as a mountain biker and won the World Cup in 1998 and 1999. He turned to road racing after placing seventh in the men's cross-country mountain bike race at the 2000 Summer Olympics in Sydney. After two second-placed finishes in the Tour de France, Evans won the event in 2011.
"I am a racer, but we are competing against far more experienced riders so we have to be realistic," Evans said. "If George and I can put up with each other, and race hard without any major mishaps, that will be good."
During his 19-year professional career George Hincapie was regarded as the premier American classics rider of his generation. He competed in a record 17 Ronde van Vlaanderen races and finished second at the Paris-Roubaix – the best ever for any American. Beyond the classics he rode in the Tour de France 17 times and won three US National Road Race championships.
Asked why he had chosen to do the Absa Cape Epic, Hincapie laughed: "Cadel made me do it … and it looks like it's going to be an amazing adventure."
"Troy (de Haas, their BMC team manager) sent us some videos on the race to start visualising and preparing over the next months, but that's about it."
Evans has been back on his mountain bike since retiring. "Yes, I came into cycling through mountain biking. I stayed away from the trails for most of my road career, but as soon as I stopped competing I started riding off-road again."
"I have not competed seriously since February 2015. For training reasons, I will try to get some competition in before the Absa Cape Epic."
Hincapie admits he has no experience racing mountain bikes. "| have always enjoyed riding off-road but have never really raced it, except just with mates at home."
Neither have ever raced in a team event either.
"Should I be worried?" Evans laughed. "It will be my first time in South Africa. That alone will be a great experience."