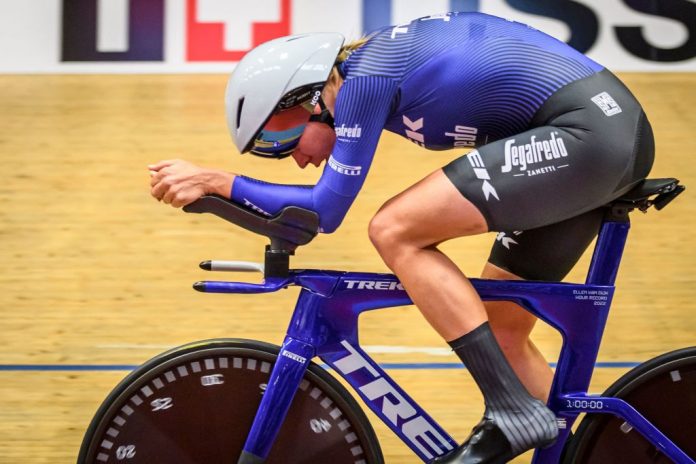 Women's cycling has a new world record after Dutch star Ellen van Dijk covered 49.254 kilometers in the Velodrome Suisse in Grenchen, setting a new women's Hour Record. Van Dijk smashed the previous record, set by the United Kingdom's Joscelin Lowden, by an impressive 849 meters. It is a record that is likely to remain for some time.
Trek-Segrafredo rider Van Dijk started her record-breaking ride powerfully, quickly increasing her pace from a standing start and reaching an average speed of 39.2 kph within the opening 15-minutes. She looked settled as she continually completed 250-meter laps in 18.2 seconds. Remarkably, the 35-year-old upped the pace at the halfway mark and was averaging 49.4 kph, which was almost a full kilometer than when Lowden set the Hour Record in September 2021.
A slight drop in pace between 30 and 40 minutes saw van Dijk average 49.1 kph, but she came strong again in the final ten minutes of the 60-minute battle and averaged an impressive 49.3 kph. The pain of such a performance was there for all to see at the 55 minutes mark and van Dijk's average speed dropped below 49 kph for the first time. However, she had already done enough to set a new world record, defying the odds of the bookmakers at onlinesportsbetting.net.
Van Dijk Pushed Herself to Her Limits
A delighted but exhausted van Dijk spoke to the press once she had ridden a few easy laps to unfold herself from the aero-tuck.
"I'm very happy I broke the record. At 45 minutes, I thought, OK, I need to accelerate. I thought I was accelerating, but I was slowing down. That meant this was it for today. I knew the first half hour was around laps 81-82, and it was under the pace I needed to ride. I thought if I don't slow down much, if I don't go over five, I should have it. I think I was almost never over five (18.5-second laps), but I couldn't hear anything. Everything became a little blurry, and especially at the end, I was not riding so straight. I was just happy when I heard it was over."
Covering more than 49 kilometers in an hour is a remarkable feat in its own right, but van Dijk's achievement is extra special. The woman affectionately known as "The Animal" enjoyed a fantastic end to 2021, winning the road race at the European Championships and following that up with a world title in the individual time trial at the UCI Road World Championships only nine days later. However, her rich vein of form ended in Paris-Roubaix Femmes when she crashed four times on the wet cobbles, with one of those crashes leaving the Dutch star nursing a severe concussion.
Suffering the Effects of a Concussion
The effects of the concussion continued lingering and prevented van Dijk from preparing for the 2022 season how she wanted. Van Dijk's results from the 2022 season are nowhere near up to her standard, which is understandable considering her head injury. However, she did finish seventh in the 2022 edition of the Paris-Roubaix, going some way to exercising her demons from 2021. Now that she has a new Hour Record, it would not surprise anyone in the cycling world to see van Dijk return to her brilliant best for the remainder of the 2022 calendar.
This is the second prestigious record van Dijk holds. She and Kirsten Wild and Vera Koedooder set a Dutch national record in the 3000m team pursuit at the 2012 Olympics in London. The Dutch team set a blistering time of 3:20.13, knocking more than a second off the previous Dutch record.