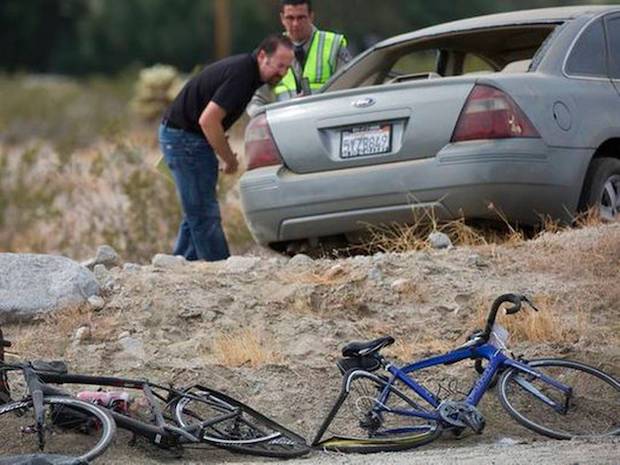 (AP) – A car seen driving down a road at twice the speed limit barreled into cyclists racing in California's Tour de Palm Springs, killing one person and seriously injuring another, police said.
The driver was also injured in the crash Saturday morning near Indio Hills, Calif.
California Highway Patrol Sgt. Isaiah Kee told the Palm Springs newspaper The Desert News that the car was seen going 100 mph along the 100-mile charity bike ride route. It veered off the road onto the dirt shoulder then back into the path of cyclists, he said.
Cyclists said the sedan's rate of speed might have meant the driver didn't have time to avoid the cyclists, Kee said.
"There were so many participants that it was easy to see that there were bicyclists coming not like you're traveling down the road and all of a sudden encounter a few bicyclists," Kee said.
Michael Stearns, a spokesman for the Tour de Palm Springs, told the newspaper it didn't have enough information to comment Saturday afternoon.
The names of the cyclists and driver involved have not been released.
This is at least the second death in the race in recent years. A woman was killed in 2014 when she ran a stop sign and was hit by a pickup. CHP investigators said the pickup's driver was not at fault.
Police are investigating whether drugs or alcohol were involved in Saturday's crash.