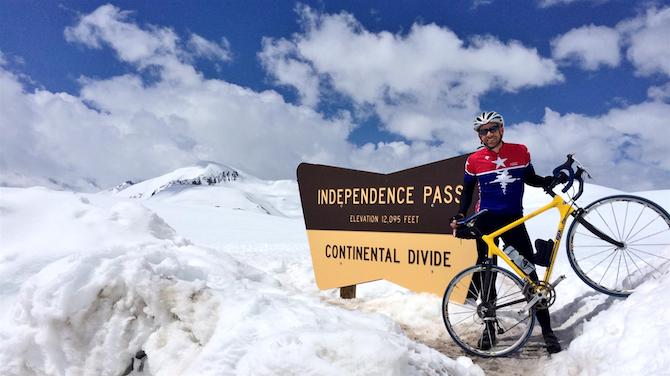 As the highest paved crossing of the Continental Divide in the U.S. Independence Pass is always going to have a special place in the heart of cyclists living or visiting Colorado.
Best known for its silver and skiing, from Aspen (in the west) the climb is 19.5 miles / 31.4 km and although long it's the altitude that you really need to watch out for in this neck of the woods.
Starting the day at an elevation that rivals some of the most prominent peaks in Europe, unless you're well acclimatised you're definitely going to feel the lack of air right from the gun. Fortunately the gradient is never too steep, generally hanging around 4-6% all the way, allowing you to appreciate endless landscapes alongside the Roaring Fork River on your journey to 12,095ft (3,687m).
With 3 miles (5 km) to go you pass the Independence ghost town, today a very different place to what it would've been in its heyday in the late 1800's. It's from this town that the pass took its name, prior to this it was known as Hunters Pass.
With no road markings or signs at the side of the road indicating how far you have to go it's a welcome landmark, and from here you can just about trace the road in the distance all the way to the top.
Start: Aspen
Length: 19.5 miles (31.4 km)
Highest Point: 12,095ft (3,687m)
Start Elevation: 7,951ft (2,423m)
Elevation gain: 4,144ft (1,263m)
Max gradient: 7.5%
Average gradient: 4.2%