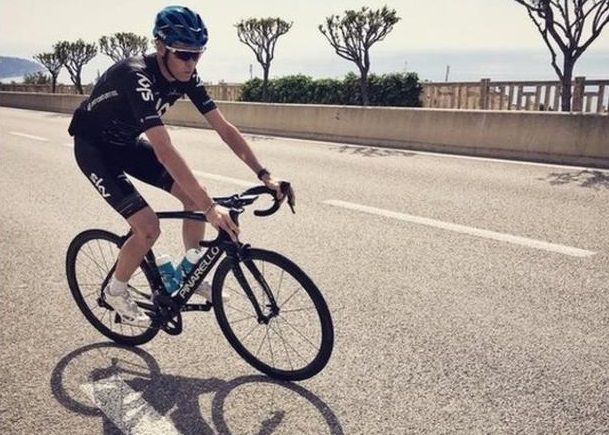 (AFP) – Chris Froome gave a revealing interview to The Times on Saturday appearing naked on a bike.
The 32-year-old Kenyan-born rider — who will attempt next week to add individual and team world time-trial gold to his Tour de France and Vuelta crowns this year — told the paper in self-deprecatory fashion he was not impressed with what he saw when he looked in the mirror.
"I can recognise the proportions are ridiculous. Skinny upper body, massive thighs – I do feel a bit ridiculous looking in the mirror," said Froome referring to his body shape.
"That's what it takes, but I am looking forward to getting in the gym when I retire and doing some bicep curls, getting some shoulders to balance things out a little."
Froome, who says compared to many riders he has been relatively fortunate in not breaking too many bones, said that he let himself go when he was not training or competing.
"In the off-season I will put on six or seven kilos once I start eating normally and I'm not training five or six hours a day," he said.
"I have an extremely sweet tooth so I do find dieting tough. Days without carbohydrates, we call it 'low-carb head'.
"You might have a two-egg omelette, protein for the muscles, but no carbs and, after three, four hours of riding, you can be seriously grumpy. You can't talk, almost zombified."
Froome, who last Sunday became only the third rider to achieve the Vuelta/Tour de France double, said he was not driven by a fear of failure but from a deep desire to succeed.
"I think you can be born with an ability to suffer and push hard," said Froome.
"I've always had that. For me, the drive comes from wanting something so badly that everything else becomes irrelevant. It is never fear of failure. That's a very negative energy.
"I think a lot about riding away from everyone else, dropping them on a climb. I do a lot of visualisation and it's a very positive mindset.
"The bottom of Angliru I'm already visualising those last few ks, hoping others are on the limit, seeing it as an opportunity not, 'Bloody hell, this is going to be tough'."