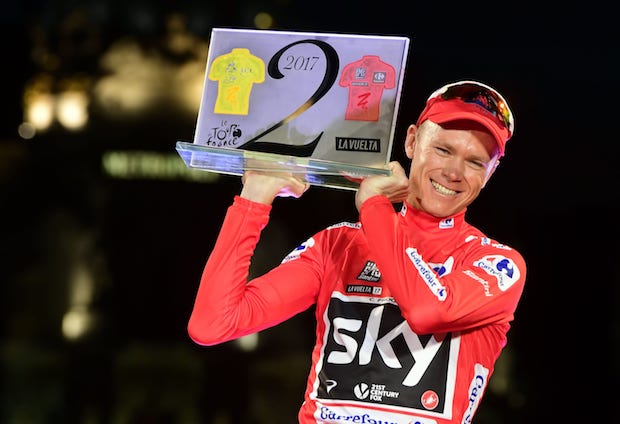 Chris Froome had twice the permissible amount of asthma medication in his system during the Vuelta race in September, cycling's governing body UCI said on Wednesday.
Team Sky said the 32-year-old rider had suffered from asthma since childhood and had been affected by symptoms during the race which he went on to win.
But the team said he had taken no more than the allowable amount of Salbutamol.
"It is well known that I have asthma and I know exactly what the rules are", said Chris Froome. "I use an inhaler to manage my symptoms (always within the permissible limits) and I know for sure that I will be tested every day I wear the race leader's jersey.
"My asthma got worse at the Vuelta so I followed the team doctor's advice to increase my Salbutamol dosage. As always, I took the greatest care to ensure that I did not use more than the permissible dose.
"I take my leadership position in my sport very seriously. The UCI is absolutely right to examine test results and, together with the team, I will provide whatever information it requires."
Team Principal Sir Dave Brailsford said: "There are complex medical and physiological issues which affect the metabolism and excretion of Salbutamol. We're committed to establishing the facts and understanding exactly what happened on this occasion.
"I have the utmost confidence that Chris followed the medical guidance in managing his asthma symptoms, staying within the permissible dose for Salbutamol. Of course, we will do whatever we can to help address these questions."