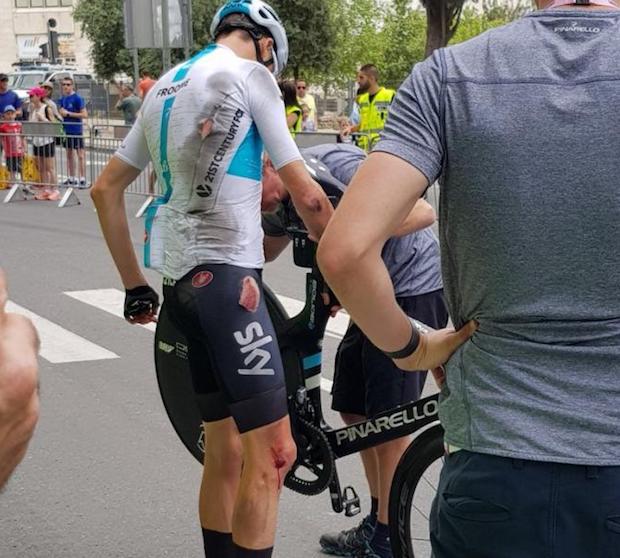 Chris Froome got off to a tricky start of his Giro d'Italia campaign following a crash in the morning recon of the 9.7-kilometre stage.
Despite that Froome dusted himself off to put in a decent time of 12 minutes and 39 seconds as the first Grand Tour of the season got under way.
That time was 37 seconds down on the day's best marker, with defending champion Tom Dumouin (Team Sunweb) the last man to cross the line, setting an unbeatable time of 12:02 to move into the maglia rosa.
"I just lost the front wheel in a corner. I was testing a corner at race speed, at around 20 or 30kph", said Froome.
"I'm not relying on TT's to try and win this Giro with Tom here. He did a great ride today – to come here and win out of the box like that is seriously impressive. Congrats to him. Obviously Rohan Dennis and Tom were the two guys who gained time today, but there are other GC guys there or thereabouts. There's a long way to go and it's good to be here and get the racing under way.
"A crash is always going to hurt but I'm just glad it wasn't more serious. Obviously I saw what happened to Kosta (Siutsou) who is in hospital – so I'm just glad I'm not more injured after today. That's bike racing though and all part of the sport."