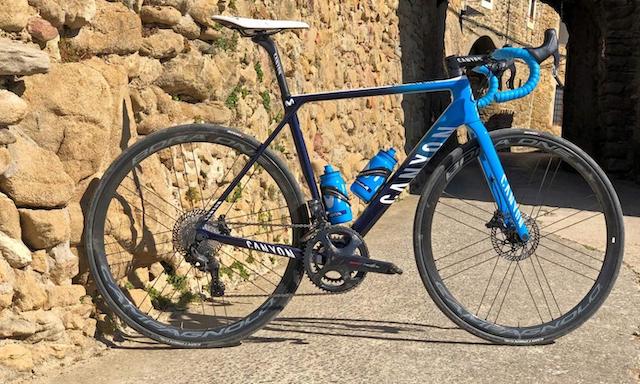 Campagnolo unveiled its latest Super Record 12-speed EPS electronic groupset, offering both a rim and disc brake version, and it's the most expensive production groupset ever made.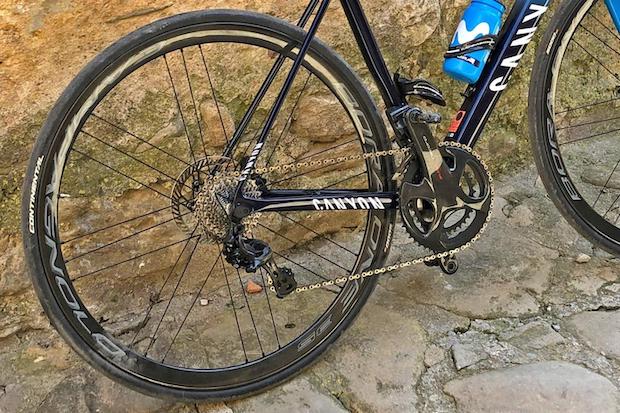 The Italian company is only offering the new electronic groupset in the guise of Super Record, which mirrors many of the same drivetrain aspects  as its mechanical counterpart such as 11-29 and 11-32 cassette options, 50/34, 52/36 and 53/39 cranksets and the company's CULT Ceramic bearings.
Campagnolo sees EPS serving two purposes. One this is what the pros demand, for its lightning fast shifts and trusted, smooth running operation. The other is for no-holds-barred premium bike builds. At the pricing level that EPS hits (almost 1500€ more than mechanical), Campy figures if you are deciding to buy EPS, why not just go all in on Super Record. It also has you opt for the lightest overall EPS groupset possible since the electronics add a couple of hundred grams anyway.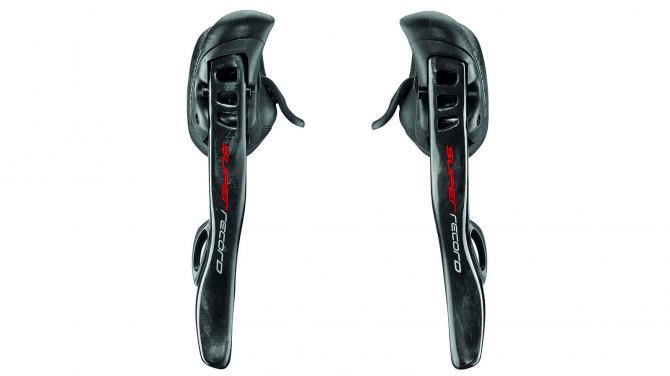 The heart of the system is the Ergopower control levers, which are visually similar to the 11-speed version of EPS. Available for both disc and rim brakes, the new EPS 12-speed features a small mode button tucked behind the thumb shifter on each lever, allowing riders to check battery life, adjust the rear derailleur on the fly, and perform diagnostics.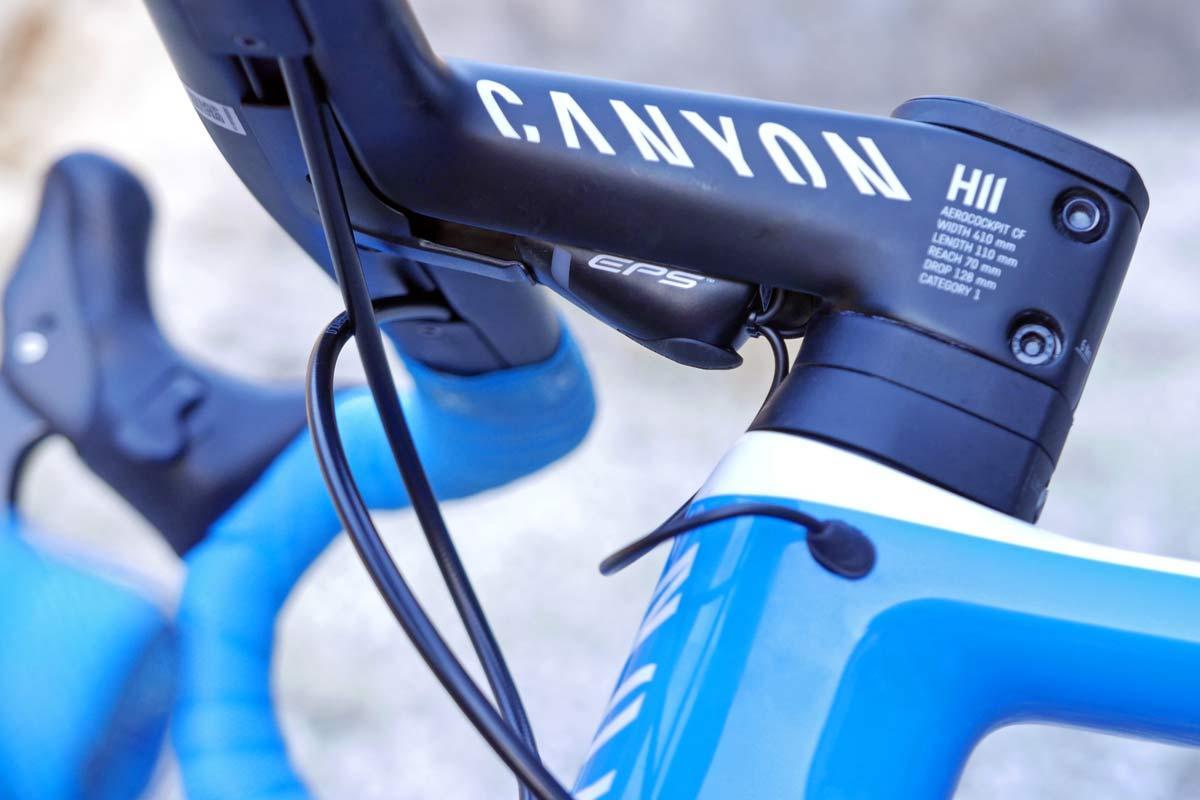 That mode button is also how the system communicates with the MyCampy app, allowing users, among other things, to customize their shifting.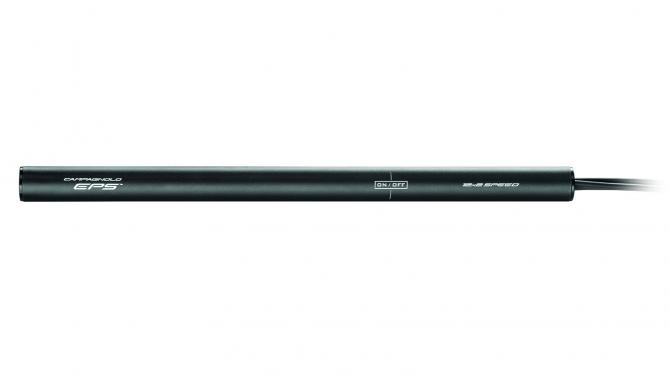 The 12-speed EPS also gets Campagnolo's new Version 4 battery power unit, which is compatible with most framesets, offering a battery life somewhere around 1000 miles on a single charge.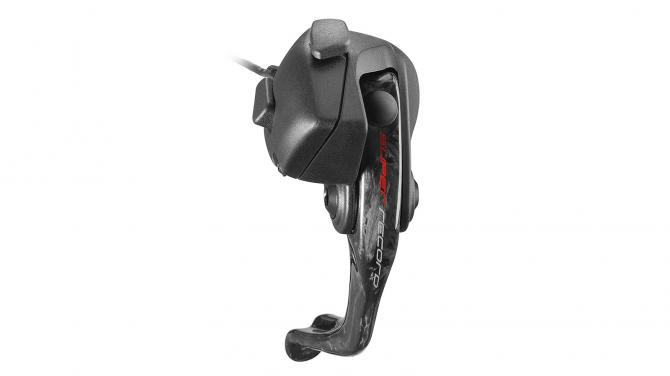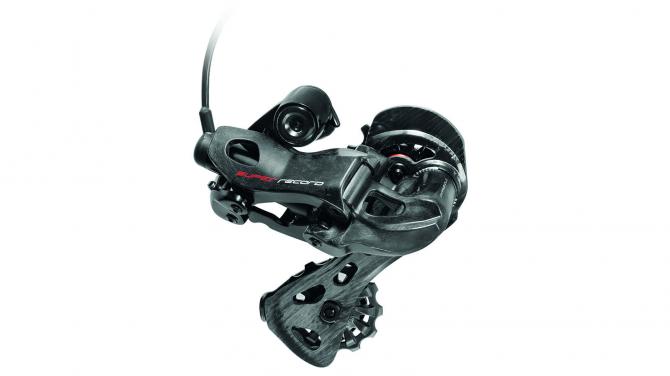 Shifting on the new 12-speed EPS now allows riders to go all the way down the cassette via either the thumb shifter or the lever. Campagnolo claims the levers and shifters are precise enough to stop at whichever cog the rider intends.
Campagnolo's Multi-Dome technology also carries over to the new 12-speed EPS, which features a set of aluminum domes encased in the shifters that allow for "optimized operating force". Meaning, even though the shifting is electronic they still posses a mechanical-like indexing feel that prevents unintentional shifts. Also, the shifters can be adjusted via a hex key to make them more comfortable for smaller hands.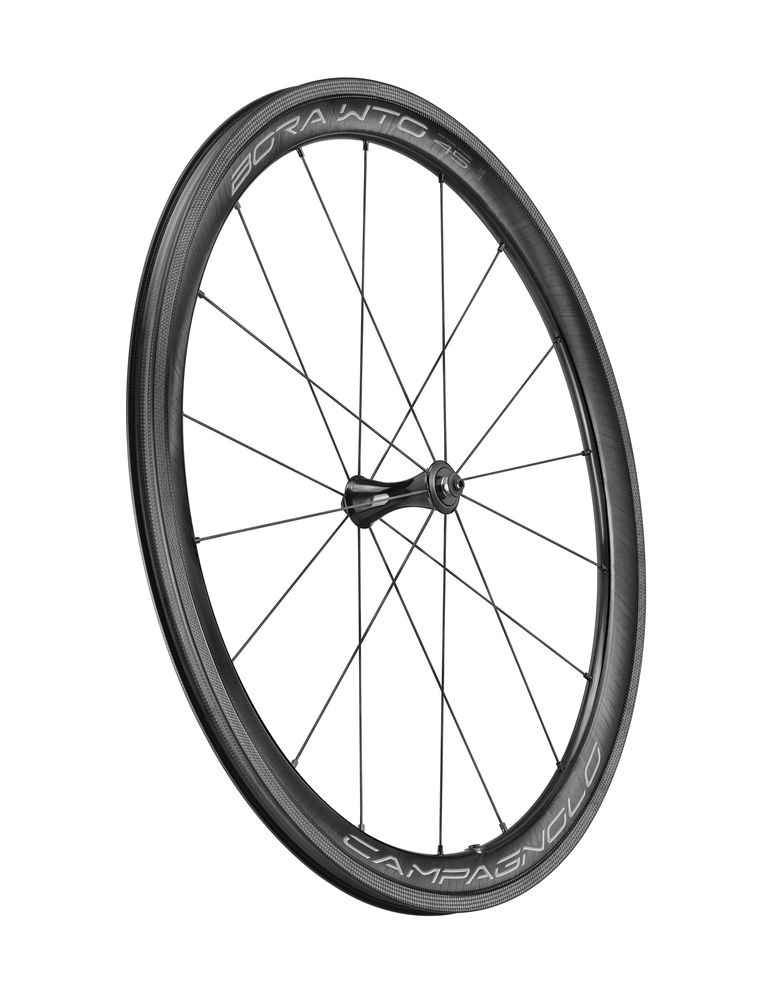 Along with the new EPS group, Campagnolo added a new rim to its Bora wheel line. Along with 60mm and 77mm rims, riders can now choose a much more versatile rim depth of 45mm. Featuring the same hubs and spoke pattern the brand's WTO 60 and 77 wheels, the new WTO 45 features a 19mm-wide rim (internal) and ceramic bearings. Campagnolo says the wheels feature industry leading aerodynamics, stiffness, rolling resistance, and friction—big claims that we'll test.
Campagnolo Super Record Disc Brake EPS 12-speed pricing: £4,108 / €4,677 / $4,636
Campagnolo Super Record Rim Brake EPS 12-speed pricing: £3,800 / €4,327 / $4,292
Tech Details
Disc brake groupset: 2,505 gram
Rim brake groupset: 2,255 gram
Ergopower control levers (disc): 381 gram (pair)
Ergopower control levers (rim): 280 gram (pair)
Rear derailleur: 234 gram
Front derailleur: 132 gram
Disc brake calipers: 118 gram
Rotors: 99 gram (140mm)
Direct mount rim brakes: 336 gram (pair)
Traditional rim brakes: 311 gram (pair)
Crankset: 618 gram (172.5, 50/34)
Cassette: 266 gram (11-29)
Chain: 288 gram
Bora WTO 45 wheelset: 1,496 gram (rim brakes), 1,520 gram (disc brake)
Rim width: 19mm (internal)