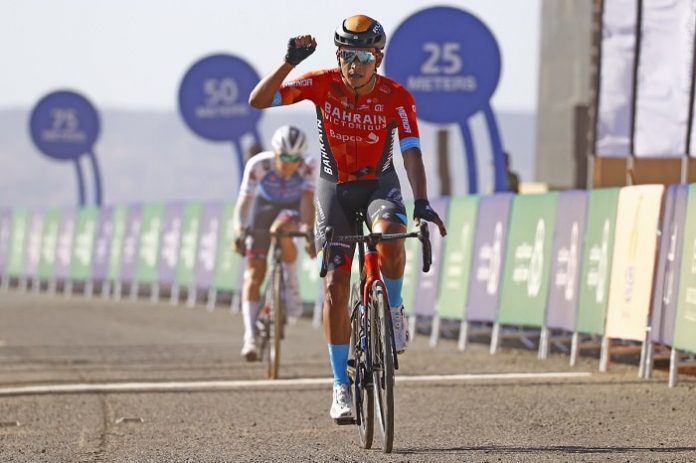 Santiago Buitrago escaped the peloton on the only climb of the stage with 800 meters to go to take the victory in stage 2 of Saudi Tour. 
You can rewatch STAGE 2 of 2022 Saudi Tour HERE
The second stage of the Saudi Tour featured a 164 kilometer ride starting from Taibah University just south of Al Ula and finished at the plateau above Abu Rakah.
The race started similar to stage 1, with three riders escaping the peloton, holding a four-minute advantage throughout the stage. The peloton didn't lose control of them and brought them back with 15km to spare and were intact at the bottom of the final climb.
Santiago Buitrago was the strongest uphill and took his first pro victory.
"I'm really happy to win the stage today. It's amazing. The team did great work for me the whole stage. The team did an incredible job for me today, to prevent any echelons. We had quite a lot of wind.
"When it was 1 km to go, I saw that I had good legs. We were only three guys fighting at the final. It was very tricky, and I didn't think that I would have a lot of opportunities to win in the sprint, so I decided to try earlier. I wanted to show my gratitude to the whole team for the job done, all the riders and staff. This is the first victory in my career and the first one in the season for the team. This is incredible. Thanks to the team for trusting me. It's not the last one for sure."
Santiago Buitrago is now the overall leader of the race and will wear the leader's green jersey tomorrow.
📽 A look back at the 2nd stage of the #SaudiTour, where we saw a young pro claim his first win and a battle for green beginning to shape up 🟢 pic.twitter.com/ztM4pCwvMP

— Saudi Tour طواف السعودية (@thesauditour) February 2, 2022